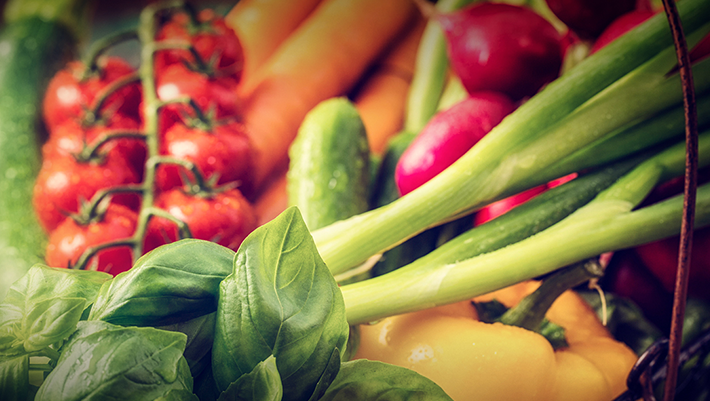 Eat a wide variety to max up the nutrients going into your body.
Fruits and vegetables help add loads of colour and variety to our diets, and when they're not boiled to death, are delicious ways to get nutrients in. Not only are they are packed with essential vitamins and minerals, fibre, and healthy fats, but they also contain a variety of unique chemicals called phytochemicals (plant nutrients). They are not considered essential but they are distinct from 'normal' nutrients such as vitamin C, as they contain health boosting compounds that may help to prevent chronic disease and may have potential benefits for cognitive function.
A variety is important as different fruits and vegetables contain their own combination of vitamins, minerals and fibre. So, to get the most benefit, aim to eat one portion from each colour group. Choose from red, green, yellow, white, purple, and orange fruit and veg varieties. Highly pigmented plant foods such as blueberries, blackberries and purple cabbage, contain the phytonutrient, anthocyanin, which gives these foods their distinctive purple-blue colour. Some studies suggest this pigment may have some benefit for human brain health.
Many of the nutrients found in fruits and vegetables also act as antioxidants, which protect the body from harmful free radicals (found in pollutants), which have shown to cause DNA damage and increase cancer risk. Studies have shown that people with diets high in fruit and veg have a lower risk of developing many diseases, including high blood pressure, heart disease, stroke, obesity, and some cancers (including mouth, throat, stomach, bowel and lung cancers). It is thought that compounds called glucosinolates, found in cruciferous veg such as broccoli, activate enzymes that may help to prevent some cancers.
In fact, the diet is thought to contribute to the development of approximately one-third of all cancers. Eating a healthy, balanced diet, containing a variety of fruits and vegetables is the second most important cancer prevention strategy, after stopping smoking. There is evidence to suggest that for every portion of fruit or veg eaten, there is a greater protection against heart disease and strokes and some cancers. Increased fruit and veg consumption has also been found to improve digestive health, reduce the symptoms of asthma, delay the development of cataracts and age-related macular degeneration, have a beneficial effect on the naturally-occurring bacteria in the gut, better management of diabetes and the potential for improved bone health.
Given all the health benefits of eating more fruit and veg, we should all be aiming to meet the Government's recommended target of 'a least five (80g) portions (at least 400g in total) of a wide variety of fruit and vegetables each day'. Yet most UK adults are falling short of this target by around one portion a day, with only 8% of teenagers and approximately one third of adults actually achieving this target. Perhaps people are still confused about what counts as a portion?
WHAT'S A PORTION?
One adult portion of fruit or veg is 80g, this is equivalent to:
FRUIT
One apple, banana, pear, orange or nectarine or a similar sized fruit
Half a grapefruit or avocado
Two plums, satsumas, kiwi fruit or similar sized fruit
A handful of grapes
Two handfuls of blueberries or raspberries
A slice of large fruit such as melon, pineapple or papaya
One heaped tablespoon of raisins, currants, or cranberries
VEG
Two broccoli spears
Three heaped tablespoons of vegetables, such as carrots, peas or sweetcorn
Three heaped tablespoons of baked beans, haricot beans, kidney beans, cannellini beans, butter beans or chickpeas (however much you eat they will only count as one of your 5-A-Day)
One cereal bowl of lettuce, watercress or spinach
One medium tomato or seven cherry tomatoes
Children should also eat at least five portions of a variety of fruit and vegetables each day. There is no specific guidance on portion size for children, but a good guide for one portion is the amount that fits into the palm of a child's hand.
WHAT COUNTS?
Fresh, frozen, dried and canned fruit and vegetables all count towards your daily intake. Are potatoes a vegetable? Potatoes do not contribute towards your 5-A-Day because they are classified nutritionally as starchy foods, which is the same for yam, plantain and cassava. But, sweet potatoes, parsnips and butternut squash do count.
A glass (150ml) of 100% fruit or vegetable juice or smoothie also counts as one portion. But, no matter how many varieties of fruit juice you drink per day or how much you drink (above 150ml), it will still only count as one of your portions per day. This is because the juicing process removes most of the fibre from the fruit. It also releases the sugars contained in the fruit so try to enjoy your 150ml glass of juice at mealtimes to reduce the impact this has on your teeth.
10-A-DAY?
We know that eating fruit and veg is good for us, but a study led by scientists from Imperial College London suggests eating more than 5-A-Day shows major benefit in reducing risk of heart attack, stroke, cancer and early death. The team at Imperial College London wanted to find out "what's the maximum amount of fruit and veg we need to eat each day, to get the best protection against early disease and early death?" They combined 95 human studies (two million people) into a meta-analysis. They found that eating up to 10 portions of fruit and veg per day (800g) was associated with a 24% reduced risk of heart disease, 33% reduced risk of stroke, 28% reduced risk of cardiovascular disease, 13% reduced risk of total cancer and 31% reduction in dying prematurely, compared to not eating any fruit and veg.
These health benefits are likely to be due to the whole package of beneficial nutrients contained in these foods. It is important to eat whole plant foods to get the benefits, as antioxidant and vitamin supplements have not been shown to have the same benefit.
With fewer than one in three of UK adults achieving the 5-A-Day recommendation, 10 fruit and veg each day may seem completely out of reach. The key thing to remember is that something is better than nothing, even 2.5 portions (200g) per day have been associated with a risk reduction in heart disease, stroke, cardiovascular disease, cancer and premature death.
INCREASE FRUIT AND VEG
Aim to eat one or two portions with each meal
Make fruit or veg the first choice for a snack
Bulk up stews or curries with vegetables and pulses for extra flavour, texture and nutrition
Keep a supply of frozen fruit and veg at home
Try steaming or roasting vegetables rather than boiling, to retain the maximum amount of nutrients
Choose a variety of different fruits and veg; eat the rainbow