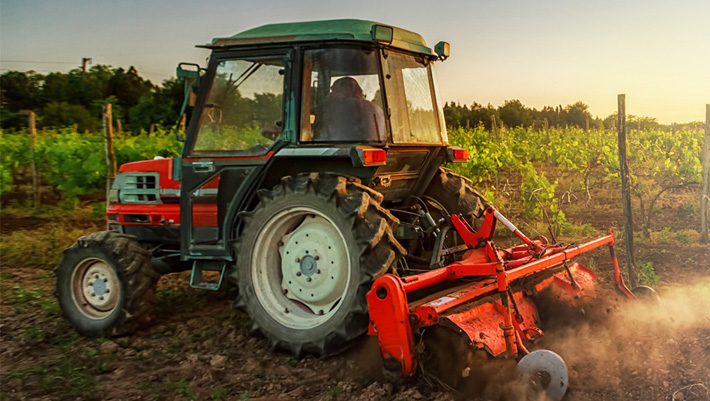 Here in the UK we are lucky enough to live in a part of the world where the variety of food is immense, and thanks to the improvement of refrigeration, transport and cultivation, distance and seasonality is no longer a barrier to what food is available to us. However, with such choice comes great responsibility to both our bodies and the planet, which is why what we decide to eat should be as farm fresh as possible.
Fresh food
Eating fresh food is a great way to ensure that what you eat will be in its healthiest form and be the best for your body and the environment. But what constitutes fresh food is not so clear cut, though Sodexo believes that there are a handful of aspects that make certain that the food in front of you is, in fact, truly fresh.
Fresh food is Live food. Live food typically means the food is at its best when eaten uncooked or unprocessed. Think of it, for example, like some crunchy veg full of its natural fibres and nutrients that would be lost if boiled soft!
Fresh food is food which comes straight from the animal or ground. Most food is at its best within 72 hours of harvest, but more importantly fresh means nothing extra is added, like additives, preservatives or other chemicals that artificially prolong its shelf-life.
Fresh food will also have great flavour and taste because it is in its natural condition, fundamentally unaltered from its state in the field.
Fresh foods are inherently full of natural antioxidants, nutrients and fibre. Processed and fast foods can be loaded with calories from refined sugar and fats as well as having high levels of sodium.
Seasonality
Making sure that you eat plenty of seasonal food means that you'll be getting the maximum benefits from the produce that's appropriate to that time of year. Simple as that. Additionally, eating seasonally means you'll enjoy fruit and veg when they are at their prime. They'll be tastier, contain a better nutritional value and be cheaper and better for the environment thanks to their wider availability closer to home. Most importantly though, all this equates to fantastic tasting fruit and veg with extra crunch, juiciness and overall super-freshness, all at great value. What's not to love?
Keeping an eye on the seasons and what's on offer during them is a great way to make sure you get a wide variety of great tasting produce throughout the year. Here's what to look out for and when:
Spring: Cabbage, delightful asparagus, cauliflower and rhubarb.
Summer: Peas, broad beans, strawberries, cucumber, cherries, lettuce, raspberries and plums.
Autumn: Orchard fruits, earthy mushrooms, delicious root vegetables and colourful squashes.
Winter: Brussel sprouts, white cabbage, carrots, leeks and kale.
Sustainability
All these factors are, of course, a very important aspect of eating well and staying healthy in an age of such tremendous choice and variety of food. But there is also the incredibly important added benefit of being a much more sustainable and ethical form of sourcing our food.
Here at Sodexo, our approach to sustainability combines the economic, social and environmental factors with a focus on seasonality and origin of our produce. This means we go beyond just focusing 'food miles' and aim to look at the bigger picture so both our planet and customers can benefit. We're also wholehearted advocates of The Fairtrade Foundation and The Rainforest Alliance. We also aim to be continuously increasing the amount of ethically traded products in our restaurants and coffee bars. All these little efforts will add up and hopefully make a difference.
Green and lean
We have worked with the WWF to create some fantastic Green & Lean meals that combine the benefits of fresh produce, nutrition and environmental sustainability and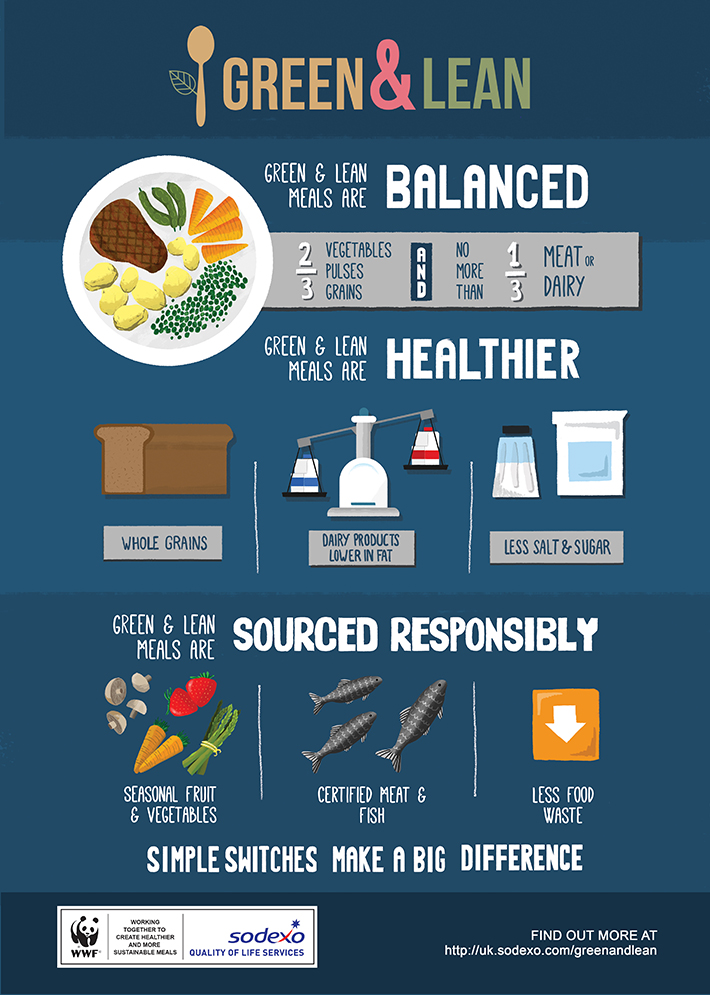 they're great tasting!
Take a look for yourself…
(Picture source: https://goo.gl/RfZhtR)