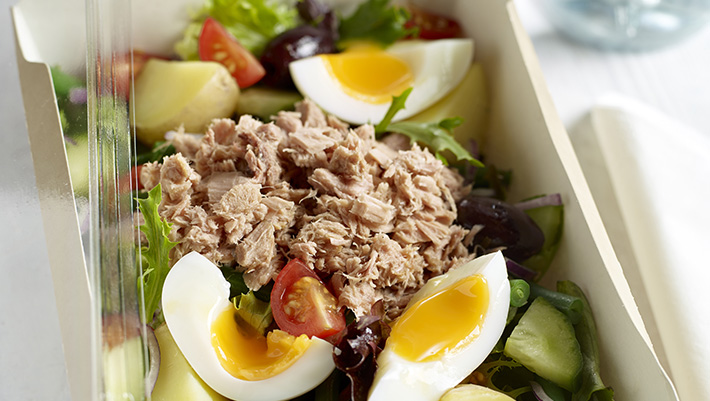 Print
Follow Our Recipe
Ingredients
280g Tuna Chunks in Oil or Spring Water
2 Large Eggs
Half a Cucumber cut in to wedges
100g Cherry Tomatoes halved
80g Red Onion halved then thinly sliced
200g New Potatoes cooked and refreshed
240g Green Beans
60g Black Olives
60ml Low Calorie Vinaigrette
Pinch of Black Pepper
700g Mixed Salad Leaves
Instructions
Drain the tuna. Cook the green beans in boiling water until just tender, then refresh in cold water. Top & tail them.
Soft boil the eggs(five minutes in boiling water) then refresh in cold water and carefully peel them.
Halve the cooked potatoes, then spray the cut side with low calorie oil spray. Heat up a non-stick pan and add the potatoes cut side down to the pan, and cook until golden brown.
In a bowl add the mixed leaves, cucumber, tomatoes, onions, green beans, olives, new potatoes and the flaked tuna. Lightly mix together with the dressing and black pepper to taste, and arrange the salad mixture into four bowls.
Finally, halve each egg and place onto the salads.