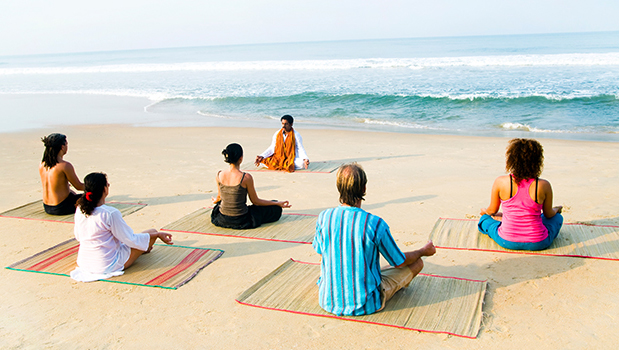 From fitness boot camps to mind-body retreats, health-focused trips are the hottest ticket to book.
Forget sightseeing or lounging on the beach. These days, finding some "me time" on vacation is taking on a whole new meaning, with more and more travelers booking getaways with a purpose: Self-improvement.
"In this fast-paced and often chaotic world, it should be no surprise that wellness retreats are an increasingly popular trend," says Steve Jermanok, founder of Boston-based Active Travels travel agency. "People need to de-stress, turn off, and replenish the well."
While most wellness retreats emphasize self-exploration and stress reduction, there's usually no shortage of fun ways to break a sweat and interact with others, he says. Check out these conveniently packaged out-of-the-box getaways to find one that's just right for you.
Unplug and unwind. Meditation-focused retreats are great if you're looking to escape information overload. You'll unplug from life's distractions—and part with your cell and laptop upon checking in. Expect meditation workshops where you'll not only engage in much-needed silence and meditative sessions, but learn tips for practicing mindfulness at home. Also expect activities like sunrise yoga, tai chi, aromatherapy massages and organic meals.
Try:
*Mindfulness Reflective Classes at Rancho La Puerta, Tecate, Mexico (five minutes from US border in Southern California); build your own getaway with meditation walks along a full-scale labyrinth or classes on chanting, tai chi, and more; www.rancholapuerta.com
*Insight Meditation Retreats at Vallecitos Mountain Ranch and Retreat Center, Tierra Amarilla, New Mexico; dedicated wildlife refuge nestled in a national forest that allows just 40 guests at a time and serves only vegetarian meals; www.vallecitos.org
*Rest & Rejuvenation Getaway Retreats at Omega Institute, Rhinebeck, New York; spend your days taking meditation classes or cleansing saunas, or simply relax in a hammock under the trees (programs for children, teen and families available); www.eomega.org
Call to action. Sit at the computer all day long or have a schedule that's so stretched there's little wiggle room to fit in an exercise routine? You might need a kick in the pants to get fitness back in your life. Thankfully, there are action-oriented adventure wellness retreats to give you that energy boost you crave—as well as massage and relaxation. Expect to spend most of your time on your feet, doing guided activities like mountain climbing and paddleboarding. You'll also get healthy, organic meals.
Try:
*Enchantment Resort, Sedona, Arizona; hike or bike through the Boynton Canyon, take a walking lecture to learn about vortexes, or really break a sweat with a HIIT Bootcamp—there's something for every fitness taste here; www.enchantmentresort.com
*BodyHoliday, St. Lucia; try the resort's Adventure Programme, where you'll trek through the rain forest and up mountains to take in the island's scenic vistas; www.thebodyholiday.com
Back on track. Life gets busy, and it's so easy to let things go—including your health. If you have newly discovered health issues or need to refocus your health goals (such as weight loss), there are retreats to help you get on track. Expect a meal plan, fitness routine, and massage services all customized to your needs. The idea is to leave with specific tips for sustaining your newfound wellness routine back home.
Try:
*Wellness Experiences at Canyon Ranch, Tucson, Arizona, and Lenox, Massachusetts; meet with a board-certified physician and experts in nutrition, fitness and stress reduction for a personalized lifestyle program; www.canyonranch.com
*Health & Wellness Retreats at Red Mountain Resort, St. George, Utah; individualized getaways range from weight-loss to self-care and feature one-on-ones with physicians and experts in fitness and nutrition; www.redmountainresort.com
*Healthy Getaway at Hilton Head Health, Hilton Head Island, South Carolina; kick-start a healthy eating and fitness routine in a gorgeous beachfront setting; www.hhhealth.com
Getting to know you. Part of life is about being there for others, and that's important. In the meantime, it's easy to become disconnected from your own cares and needs. A mindfulness retreat is an ideal way for you to reconnect with yours-truly through relaxation activities like yoga, meditation, and massages (yes, plural!)—and there's often fine wine and gourmet meals because this type of getaway isn't as much about being health conscious as it is about celebrating you.
Try:
*Mind & Body Package at Miraval Resort and Spa, Tucson, Arizona; choose from more than 100 spa treatments, but don't forget to get outside and challenge yourself on the desert tightrope course; www.miravalresorts.com
*Power of 7 Package at Lake Austin Spa Resort, Austin, Texas; create a week-long personalized spiritual adventure that includes events with celebrity chefs and artists, plus fun lake activities like riding water bikes to turkey groves; www.lakeaustin.com
*Personal Discovery Retreats at Red Mountain Resort, St. George, Utah; arrive stressed and leave feeling empowered thanks to activities like sunrise yoga, fire ceremonies, and Himalayan salt stone massages; www.redmountainresort.com
How to book: Major hotel and resort chains (some mentioned above) offer a variety of wellness packages with costs covering lodging, meals, and most activities/amenities. To put together a personalized wellness vacation, Jermanok suggests contacting a travel agent who can help you research options and work with your budget.