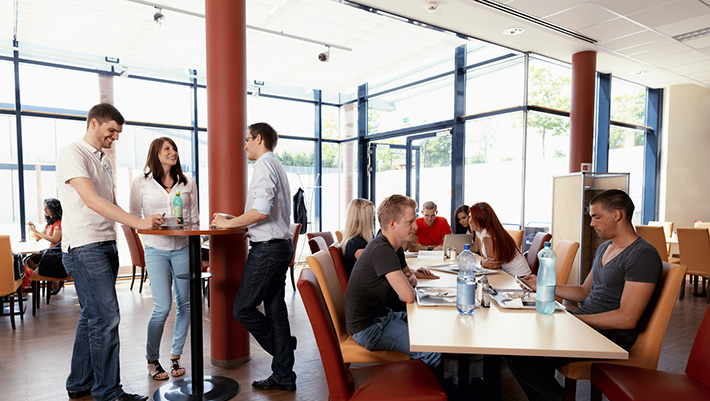 You know there are tons of options in your dining hall. But what if nothing's catching your eye? Do you miss cooking for yourself? Don't despair – just look around an all-you-care-to-eat environment - there are tons of ingredients to spark your culinary creativity.
Have fun with potatoes!  Grab a baked potato and double-stuff it with plain yogurt or sour cream, beans, onions, spring onions, a pinch of bacon, celery, peppers, top with grated cheese and microwave.  Add roasted potatoes to soups for a heartier meal.  Top a green salad with a scoop of roasted potatoes and a sprinkle of cheese for a filling and healthy snack.  Check out the vegetarian station for bean and lentil stews that taste great in a baked potato.
Sweet potatoes are fun too!  Get over to the ice cream toppings for nuts, maple syrup, and other toppings to make a great dessert! 
Don't want to go old school?  Experiment with different flavour combinations.  Make your own fruit crisps.  Cut up a fresh apple, or canned peaches from the salad bar.  Top with granola, honey, nuts and a touch of butter.  Microwave and enjoy.
Turn a soup into a stew with beans, greens, and grains from the salad bar. Add a chicken breast for a complete entrée.   Do the same with pasta.  Toss plain spaghetti with fresh spinach, diced tomatoes, red onion, green pepper, garbanzo beans and some fresh parmesan.  Add a bit of Alfredo sauce for pasta primavera. 
Make your own quesadillas.  Grap a wrap or tortilla from the deli station along with a slice or two of cheese, and perhaps add some chicken or roasted vegetables.  Add spinach, onion, tomato, and whatever catches your eye at the salad bar.  Microwave or place in a panini press if available. 
Feel like a home-made pizza bagel?  Grab a bagel (or wrap or crusty roll), top with marinara sauce and shredded mozzarella from the salad bar.  Microwave and enjoy!  Feel free to make a veggie pizza too!
Looking for a different hot vegetable than what's being served?  Check out the salad bar.  Steam those veggies in the microwave with a little bit of hot water or broth. 
My personal favourite?  DIY deviled eggs.  Take a hard-boiled egg and peel it if necessary.  Cut in half, mash the yolks with mustard and hot sauce and a touch of mayo.