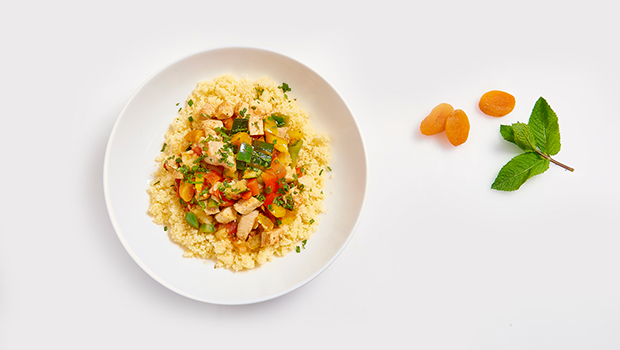 Print
Follow Our Recipe
Ingredients
250 g couscous
400 g chicken thighs
1 zucchini
1 bell pepper
200 g peeled tomato
100 g dried apricots
1 yellow onion
150 ml water
4 tbsp sunflower oil
3 tbsp lemon juice
1 tsp ras el hanout
hand of mint
Prepare the couscous according to the instructions on the package. Try to keep the couscous warm.
Cut the chicken thighs, the zucchini and the bell pepper in cubes. Cut the apricots in 4 pieces.
Heat a large pan with sunflower oil and fry the chicken thighs. Add the onion, bell pepper, zucchini, apricots and the ras el hanout.
Add the lemon juice, the peeled tomato and the water. Bring to boil and braise the chicken with closed lit until tender for aproximately 30 minutes.
Cut the mint. Divide the couscous over 4 plates. Serve with the tajine and garnisch with mint.
Nutrition Facts: Calories: 642, Carbs: 67.71, Protein: 26.3, Fat: 25.5, Sat. Fat: 3.56, Sodium: 0.64, Fiber: 8.19