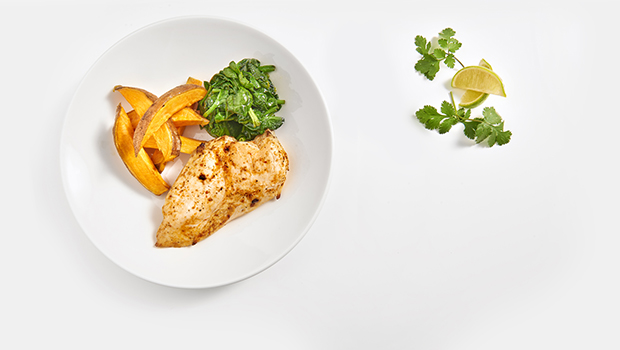 Did you know that sweet potato is not related to the potato but to the carrots? A sweet potato can also work against stress because it is rich in magnesium.
Print
Follow Our Recipe
Ingredients
33 g sweet potato
4 chicken filets
800 spinach
1 clove of garlic
2 springs of rosemary
2 tbs honey
2 tbs sunflower oil
pinch of pepper
Instructions
Preheat the oven at 230 degrees Celsius.
Peel the sweet potato and cut it into pieces. Mix the sweet potato with 1/3 of the oil and the pepper and grill it for 15 minutes in the oven.
Heat a pan with 1/3 of the oil and bake the chicken fillet.
Remove the leaves from the springs of rosemary, cut it fine and add the rosemary to the chicken. Bake the chicken, add the honey and scoop the mix.
Bake the spinach and the garlic in a pan with the remaining oil.
Nutrition Facts: Calories: 336, Carbs: 24.19, Protein: 37.1, Fat: 8.52, Sat. Fat: 1.3, Sodium: 0.49, Fiber: 5.91