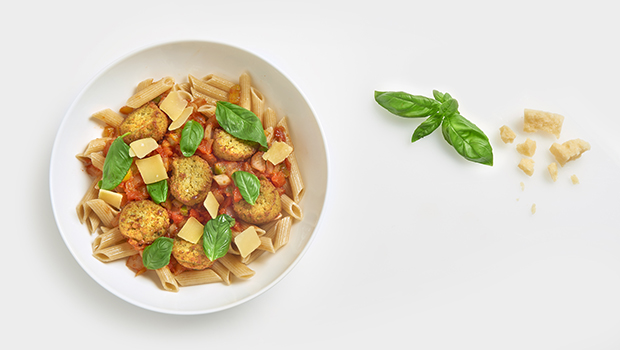 Taste a delicious vegetarian dish with falafel and tomato sauce!
Print
Follow Our Recipe
Ingredients
200 g wholemeal penne
2 tbsp olive oil
340 g falafel
2 tbsp sunflower oil
2 yellow onion
clove of garlic
2 bell pepper
400 ml spicy tomato sauce
hand of basil
40 g parmesan cheese
Cook the penne according to the instructions on the package. After draining, mix the olive oil through the penne and keep it warm.
Prepare the falafel according to the instructions on the package.
Chop the onion and press the garlic. Cut the bell pepper into cubes. Heat the sunflower oil in a large pan, fry the onion shavings, add the garlic and the pepper cubes and fry them. Add the tomato-herb sauce and boil it.
Divide the penne, the tomato sauce and the falafel over the plates. Garnish with the basil and the parmesan cheese.
Nutrition Facts: Calories: 695, Carbs: 68.71, Protein: 19.1, Fat: 34.53, Sat. Fat: 5.48, Sodium: 2.09, Fiber: 16.02