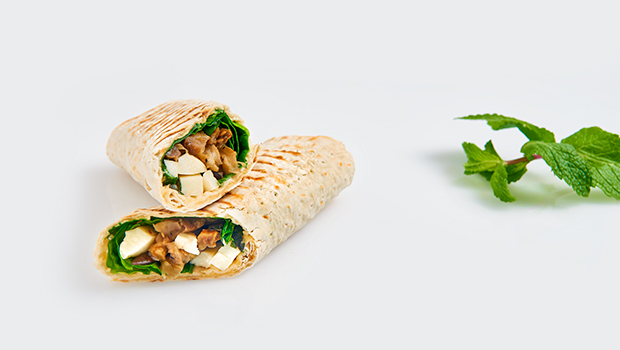 Besides halloumi and hummus, this delicious roll-up also contains eggplant. 
Did you know eggplant is rich in antioxidants, which protect the body against damage and deseases? Especially the shell has a lot of anthocyanins, an antioxidant group that is also a dye. The anthocyanins give eggplants their beautiful rich purple colour.
Print
Follow Our Recipe
Ingredients
4 wholegrain wraps
200 g halloumi
100 g hummus
1 eggplant
60 g spinach
2 twigs of mint
black pepper
1 tbs sunflower oil
Instructions
Preheat the oven at 180 degrees Celsius.
Rinse and chop the eggplant in slices. Mix with the sunflower oil and black pepper and grill for 15 minutes in the oven. Take off mint leaves, rinse with water. Cut halloumi in slices.
Spread wrap with hummus and spinach and top off with halloummi, eggplant and mint.
Roll them up and grill for 5-8 minutes in the oven. Cut wraps diagonally.
Nutrition Facts: Calories: 343, Carbs: 25.53, Protein: 13.2, Fat: 19.62, Sat. Fat: 6.45, Sodium: 2.14, Fiber: 4.54