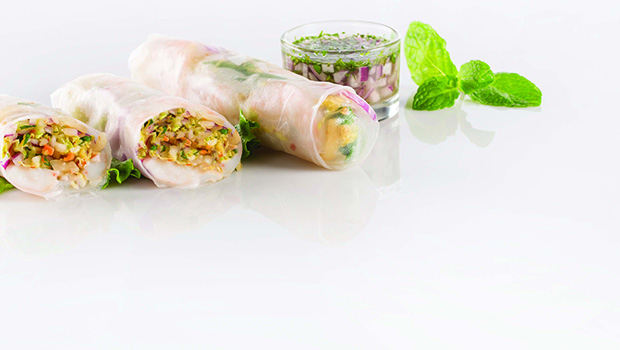 Prawns are low in calories and high in proteins, which means they fit well in a healthy diet. 
Print
Follow Our Recipe
Ingredients
100 g of brown rice
1 spring onion
1/3 cucumber
1 crop little gems lettuce
1 carrot
160 g small pink prawns
4 rice sheets
20 g unsalted cashew nuts
1 red onion
2 cm fresh ginger
1 lemon
1 tbs olive oil
hand of coriander
hand of mint
Preheat the oven at 180 degrees Celcius.
Prepare the rice according to the instructions on the packaging and let it cool down.
Roast the cashew nuts in the oven for six minutes, let them cool down and cut them fine.
Cut the red union. Peel the ginger and grate it fine. Cut the coriander and the mint. Mix the olive oil with the juice of 1 lemon to a dressing.
Mix the halve of the coriander with the red union, the halve of the ginger puree, the cashew nuts and the dressing to a dip sauce.
Cut the spring union in small rings and the cucumber in small slices. Pick the lettuce little gems, remove the hard core of the lettuce and cut them fine. Peel the carrot and cut it into thin strips.
Mix the spring onion, the carrot, the cucumber, the prawns, the remaining coriander, the mint, the rice and the remaining to a filling for the spring roll.
Dip a sheet of baking paper in water and place it on the workbench. Dip the rice papers in warm water en put them on the baking powder.
Divide the lettuce over the rice paper. Put the filling above the rice paper. Close the sides of the rice paper, roll up the wrap and cut it diagonally. Serve 2 halves per portion with the dipping sauce.
Nutrition Facts: Calories: 362, Carbs: 39.61, Protein: 11.6, Fat: 16.37, Sat. Fat: 2.35, Sodium: 1.3, Fiber: 3.5