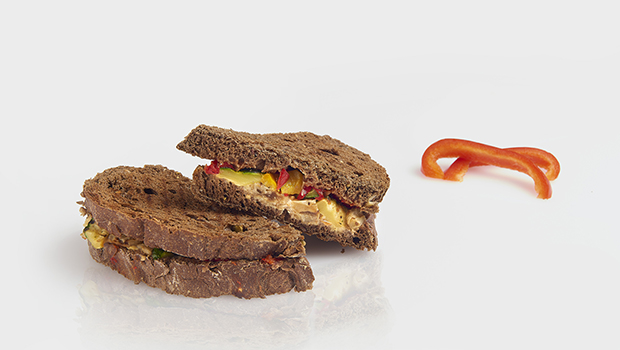 Did you know that hummus is a good meat substitute? Beside that chickpeas, of which hummus is made, contains many proteins and lower cholesterol levels.
Print
Follow Our Recipe
Ingredients
8 slices of rustic dark multigrain bread 1,5 cm thick
1/2 eggplant
1/2 zucchini
1 bell pepper
1 tbs sunflower oil
120 g hummus
60 g harissa
Instructions
Preheat the oven at 180 degrees Celcius.
Cut the eggplant, zucchini and bell pepper into slices. Mix the slices with the sunflower oil and grill them in the oven for 15 minutes.
Spread 4 of the bread slices with hummus. Divide the grilled vegetables over the hummus. Finish with the harissa. Put the second slice on it.
Grill the sandwich for 8 minutes in the contact grill, eventually between baking paper.
Nutrition Facts: Calories: 441, Carbs: 55.38, Protein: 16.7, Fat: 13.59, Sat. Fat: 1.55, Sodium: 2.41, Fiber: 5.37