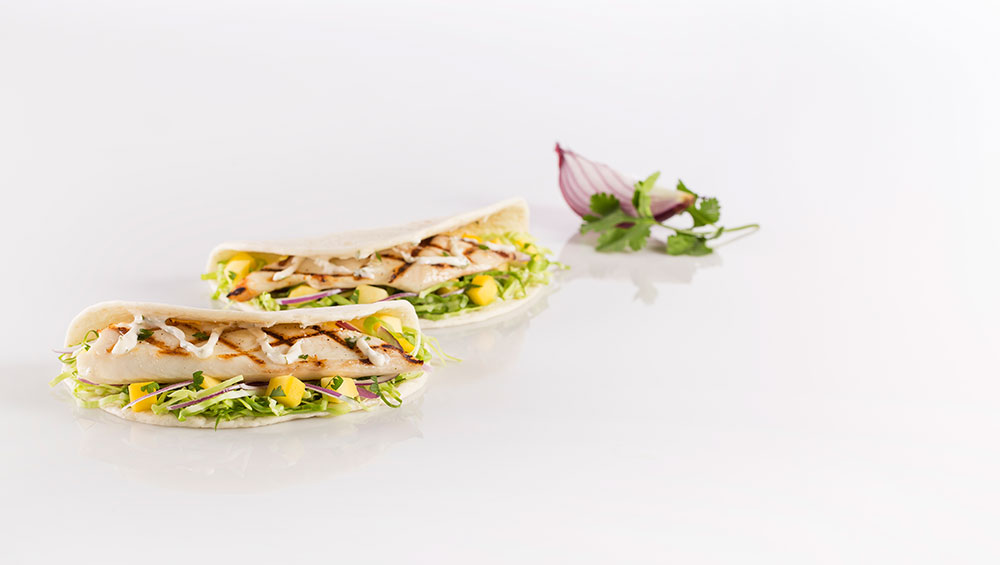 Grilled Fish Taco with Mango, Cabbage, Red Onion & Cilantro Lime Mayonnaise in a Flour Tortilla
Print
Follow Our Recipe
Prep Time: 5 to 8 minutes|Cook time: 5 to 7 minutes|
Cilantro Lime Mayonnaise:
Ingredients
3/4 tsp lime juice
1/4 cup light mayonnaise
1/2 tsp chopped fresh cilantro
Grilled Tilapia:
Ingredients
10 ounces tilapia, thawed
1/8 tsp ground black pepper
Tacos:
Ingredients
8- 6" flour tortillas
1/2 cup shredded green cabbage
2 1/2 tbsp lime juice
1/2 cup thinly sliced red onion
1/2 cup diced mango
2 1/2 tbsp chopped fresh cilantro
To Make Cilantro Lime Mayonnaise:
In a bowl, combine lime juice, light mayonnaise and chopped cilantro. Mix well. Hold refrigerated until ready to use.
To Grill Tilapia:
Spray tilapia with oil spray. Evenly sprinkle with pepper.
Grill fish until marked on both sides, firm, flaky and cooked through. Cut into 8 equal size pieces.
NOTE: If grill is not available, cook fish in a pan or oven until firm, flaky and cooked through
To Make Grilled Fish Tacos:
Toss cabbage with lime juice until evenly coated. Set aside.
Heat tortilla until warm and soft.
Lay tortilla on a clean and flat surface. Place 1 tbsp lime cabbage over center of each tortilla.
Place 1 piece of tilapia over cabbage.
Top fish with:
1 tbsp sliced onion
1 tbsp diced mango
1 tsp chopped fresh cilantro.
Evenly drizzle tacos with cilantro lime mayonnaise.
Fold over to close. Serve 2 tacos. Enjoy immediately.
Nutrition Facts: Calories: 270, Carbs: 37g, Protein: 19g, Fat: 6g, Sat. Fat: 1.5g, Cholesterol: 35mg, Sodium: 430mg, Fiber: 3g