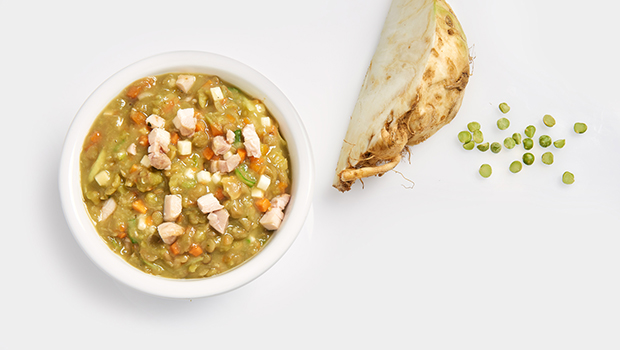 The Dutch classic, but with a healthy twist! Enjoy a lovely cup of split pea soup during the cold winter days. 
Print
Follow Our Recipe
Ingredients
1 cube chicken stock
0.5 lt water
200 g split pea
1/4 celeriac
1/4 bunch of celery leaves
100 g carrot
100 g leek
100 g onion
200 g chicken thigh
1 tb sunflower oil
black pepper
Instructions
Prepare chicken stock with cube and 0.5 lt water.
Add split peas and let it simmer gently for 60 minutes.
Preheat the oven to 180 degrees Celsius.
Clean the celeriac and carrot and chop into cubes.
Rinse the celery leaves and finely chop them.
Rinse and slice leeks in half lengthwise. Slice the halves into thin strips.
Add celeriac, celery leaves, leeks and carrot to the soup.
Mix chicken thighs with sunflower oil, black pepper and grill them for 15 minutes in the oven.
Let it cool down and slice in pieces.
Add chicken to the split pea soup and flavour with black pepper.
Nutrition Facts: Calories: 273, Carbs: 27.78, Protein: 20.3, Fat: 7.55, Sat. Fat: 2.15, Sodium: 2.10, Fiber: 7.52