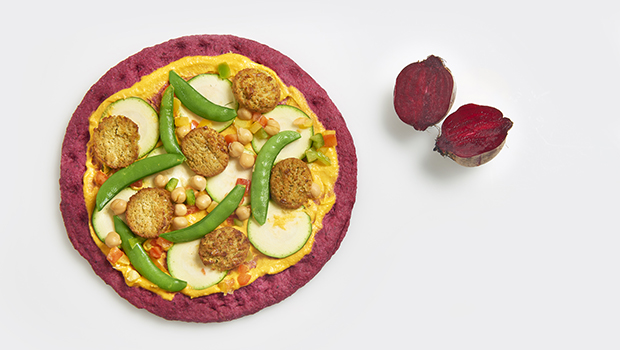 Did you know that sugar snaps are rich in phosphorus? Phosphorus gives firmness to bones and teeth.
Print
Follow Our Recipe
Ingredients
4 beetroot pizza
200 g pumpkin hummus
100 g sugar snaps
1/2 zucchini
200 g falafel
40 g chickpeas
1 bell pepper
pinch of baking powder
Preheat the oven at 200 degrees Celcius.
Blanche the sugar snaps with the baking powder and rinse them cold.
Cut the zucchini in slices and the bell pepper in cubes.
Let the chickpeas drain. Halve the falafel.
Spread the beetroot pizza's with the pumpkin hummus.
Divide the zucchini, the bell pepper cubes, the chickpeas, the sugar snaps and the falafel over the pizza's. Bake the pizza's in the oven for 8 till 10 minutes.
Nutrition Facts: Calories: 581, Carbs: 87.80, Protein: 18.8, Fat: 13.52, Sat. Fat: 1.23, Sodium: 2.13, Fiber: 21.18