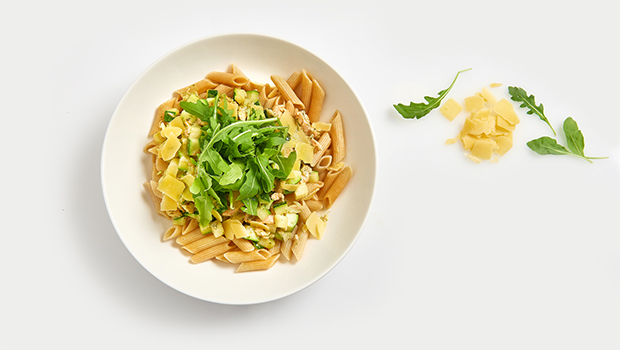 Print
Ingredients for 4 people
300 g wholegrain penne pasta
300 g smoked salmon
4 tbsp green pesto
1,5 zucchini
100 ml cooking cream
40 g grated Parmesan cheese
1 onion
40 g rocket
10 g dill
1 tbsp sunflower oil
1 clove of garlic
pinch of pepper
Instructions
Cook the pasta, following the instructions.
Slice the smoked salmon, finely cut the dill and mix the two together. Cut the onion and zucchini in cubes.
Heat the sunflower oil and bake the onion shortly. Add the zucchini and bake for 3 minutes. Press the garlic and add for 1 minute.
Add the salmon and pesto and bake for 2 minutes. Deglaze with cooking cream, simmer for 2 minutes and flavour with pepper.
Serve the penne with rocket and Parmesan cheese.