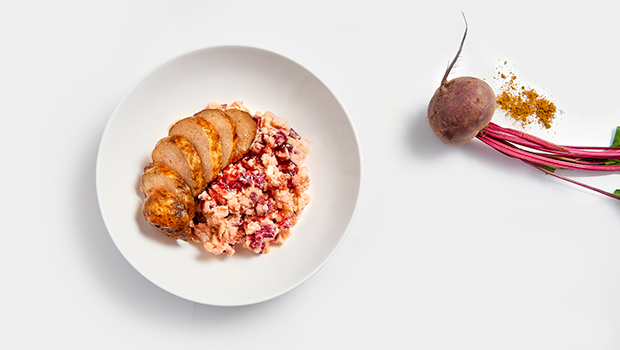 Print
Ingredients for 4 people
600 g potatoes slightly floury
500 g beets (cooked)
2 apples
4 chicken meatballs (150 g per person)
80 ml semi-skimmed milk
1 yellow onion
4 tbsp raspberry vinaigrette
1 tbsp sunflower oil
1 tsp cumin seed
1 tbsp balsamic vinegar
pinch of black pepper
Instructions
Peel the potatoes and cook for 20 min. Cut the onion, the apples and the beets in cubes.
Heat the sunflower oil and fry the onion. Add the beets and the apples cubes. Add the cumin seed and later balsamic vinegar.
Pour off the potatoes and let them dry. Heat the milk, but do not cook it! Mash the potatoes and mix with the warm milk. Mix the beet/applemix with the mashed potatoes and season with black pepper.
Heat the chicken meatball according the instructions on the package and cut in thick slices.
Devide the beet mashed potatoes over the plate and lay the chicken meatball slices on it. Garnish with raspberry vinaigrette.