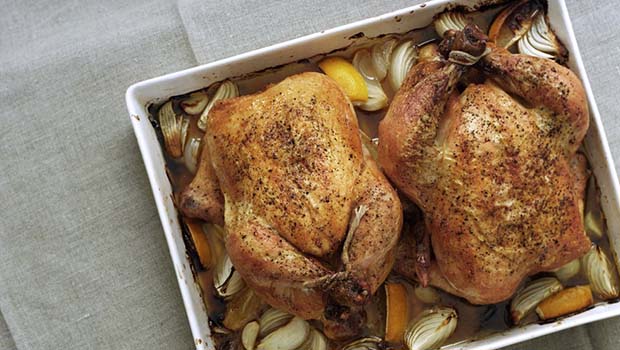 Comforting and nutritious, roasted chicken is great for Sunday supper. Because the veggies and chicken cook together in one pan, cleanup is a breeze. This recipe yields two roasted chickens, one for this meal and one to be shredded and transformed into Chicken Tortilla Soup for an easy dinner tomorrow night.
Print
Follow Our Recipe
Ingredients
3 medium yellow onions, peeled and quartered
6 Yukon Gold potatoes, chopped
1 pound carrots, chopped
1 pound parsnips, chopped
4 garlic cloves, peeled
1/2 teaspoon salt, divided
1/2 teaspoon pepper, divided
2 (4-pound) chickens, giblets removed, rinsed and dried
1 lemon, halved
8 sprigs fresh thyme
6 sprigs fresh rosemary
1 tablespoon olive oil
Preheat oven to 425 degrees F.
Place onions, potatoes, carrots, parsnips, and garlic in large roasting pan or on rimmed baking sheet. Sprinkle vegetables with 1/4 teaspoon each salt and pepper; mix together with spoon. Move as much of the vegetables as possible toward side of pan.
Place both chickens in center of pan over some of the vegetables (but have a majority of the veggies around chicken). Fill each chicken cavity with a lemon half, 4 thyme sprigs, and 3 rosemary sprigs. If desired, use kitchen twine to tie legs together. Drizzle oil and remaining 1/4 teaspoons salt and pepper over chicken.
Roast until chicken is golden and juices run clear when meat is pierced, around 1 1/2 hours to 2 hours. An instant-read thermometer placed in breast should register 180 degrees F. When chicken is done, remove from oven. Using tongs, carefully remove each chicken and place on platter. Cover with foil to keep warm.
Turn heat up to 450 degrees F. Stir vegetables and return to oven about 10 more minutes. Remove skin from one chicken and discard. Serve with roasted vegetables. Refrigerate and save remaining chicken for Chicken Tortilla Soup recipe.
Nutrition Facts: Grams per
serving: 541, Calories: 606 grams, Carbs: 76g, Protein: 40g, Fat: 11g, Sat. Fat: 3g, Cholesterol: 98mg, Sodium: 421mg, Fiber: 13g