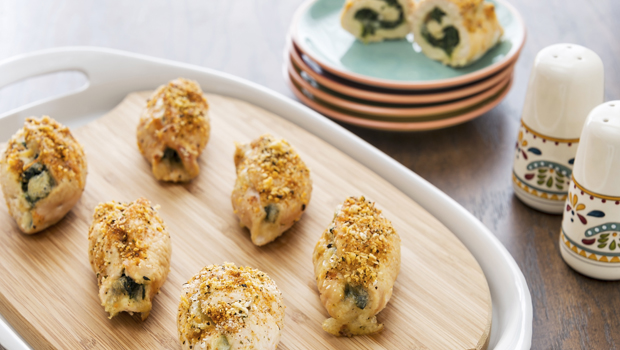 Break out of your chicken rut with this twist on a classic. The secret? Kale's tangy flavor punch … and bacon.
Print
Follow Our Recipe
Ingredients
2 pieces bacon, thinly sliced
1 (5-ounce) container baby kale or 4 to 5 cups thinly sliced kale
3 tablespoons dried cranberries
1 (5-ounce) can water chestnuts, drained
2 tablespoons fat-free cream cheese, room temperature
1/4 teaspoon kosher salt, divided
1/4 teaspoon freshly ground pepper, divided
2 tablespoons pine nuts
4 (6-ounce) boneless, skinless chicken breasts
1/2 tablespoon extra-virgin olive oil
1/2 tablespoon all-purpose flour
1 cup low-sodium chicken stock
1 tablespoon Dijon mustard
2 teaspoons lemon juice
Couscous, for serving
Preheat oven to 400 degrees F. Put bacon in large, oven-safe skillet and cook over medium-high heat, turning as needed, until cooked, about 3 to 4 minutes. Transfer bacon to food processor, to be used in step 2. Add kale to pan and cook, stirring constantly, until wilted, about 2 to 3 minutes. Remove from heat.
In food processor with bacon, add wilted kale, cranberries, water chestnuts, cream cheese, 1/8 teaspoon salt, and 1/8 teaspoon pepper. Puree about 30 seconds until finely chopped, scraping down sides with spatula as needed. Add pine nuts and pulse a few times until pine nuts are combined but not fully ground.
Make pocket in thickest part of each chicken breast by cutting horizontal slit. Use your fingers to gently make pocket larger. Season both sides of chicken with remaining 1/8 teaspoon each salt and pepper. Fill pocket with 2 to 3 tablespoons kale mixture, securing pocket opening with toothpicks.
Continue to use the same large skillet by warming oil in it over medium-high heat. Add chicken breasts, browning each side, about 2 minutes per side. Place skillet in preheated oven; cook until chicken registers 170 degrees F, about 12 to 14 minutes. (Note: If you don't have an oven-safe skillet, transfer chicken to oven-safe dish to complete cooking, but save pan drippings for next step.)
Remove pan from oven, transferring chicken to platter and covering with foil. (Discard toothpicks before serving.) Meanwhile, add flour, chicken stock, mustard, and lemon juice to pan and whisk constantly over high heat until thickened, about 3 to 4 minutes. Pour over chicken and serve with side of couscous, if desired.
Nutrition Facts: Calories: 369, Carbs: 19g, Protein: 44g, Fat: 13, Sat. Fat: 3.5g, Sodium: 592mg, Fiber: 3g