Super-hungry? These shrimp tacos are savoury, spicy and all-around delicious—don't mind if we do!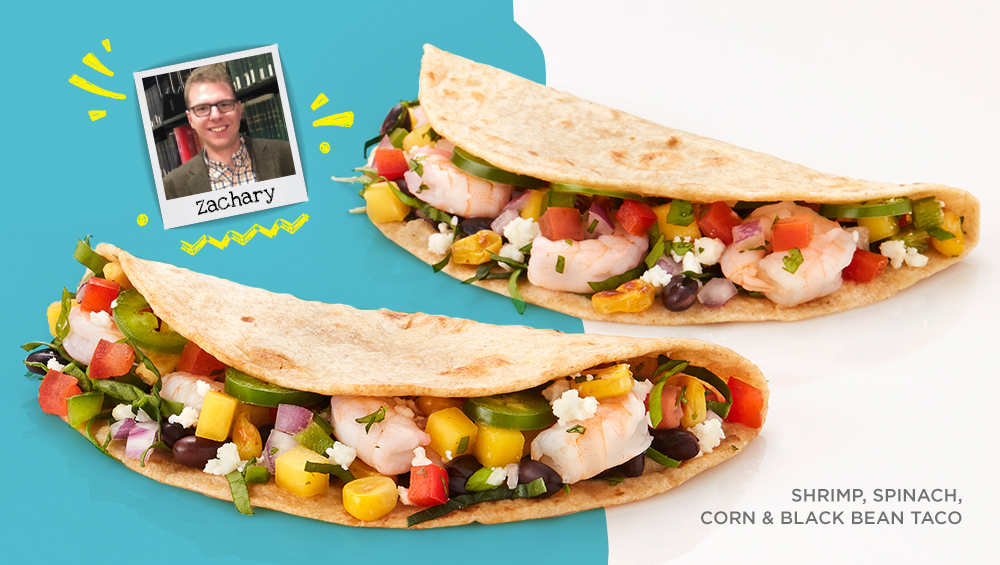 When you attend a preschool that offers cooking classes, it's a safe bet that you'll grow up to become a foodie. Make that a superfoodie in Zachary Z.'s case. The now 18-year-old freshman at Clark University in Worcester, Mass., happily admits to being "the kid who liked broccoli."
He feels right at home in farmers' markets and has no fear when it comes to experimenting with new ingredients. In fact, his Make It Mindful Taco creation was partly inspired by a recipe for grilled shrimp and prickly pear cactus leaves (or nopales) that he discovered on a blog.
"Variety is important to me," says Zachary, who's considering a career in food marketing. "I wanted my taco to have lots of different ingredients from all of the food groups. I also wanted it to have authentic Mexican flavours and still meet people's ideas of what a taco should be."
Thinking back to that standout recipe, Zachary chose steamed shrimp as the featured ingredient in his taco. Shrimp is one of his go-to protein choices, because steamed shrimp is low in fat and popular among his friends who still enjoy fish but are trying to eat less meat and chicken.
"I knew cactus leaves wouldn't be an option," he laughs, "but spinach is a nice substitute and one of my favourite vegetables. Together the two give the taco its savoury tastes."
Next in, sweet-yet-spicy corn salsa and black beans for an extra shot of fibre. Queso fresco cheese provides the authentic touch he was going for. Plus, it's a light, fresh-tasting cheese that complements the shrimp. A sprinkle of roughly chopped scallions and cilantro added at the very end give this taco a final kick of flavour.
"Healthy food isn't good for anyone if it doesn't taste great," he says.