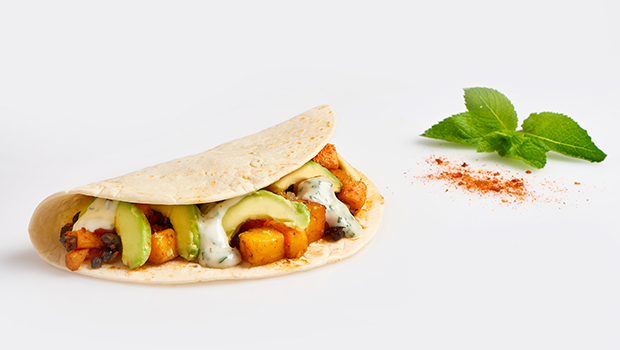 Print
Follow Our Recipe
Ingredients
400 g sweet potato
160 g black beans
1 avocado
1 yellow union
4 tortilla's
4 tbsp yogonaise
4 tbsp Greek yoghurt 0% fat
hand of mint
2 tbsp sunfloweroil
1 tbsp honey
1 tsp tex mex spices
1 tsp lemonjuice
1/2 tsp salt
1/2 tsp chilipowder
1/2 tsp red bell pepper powder
pinch of black pepper
Pre-heat the oven at 200 degrees.
Peel the sweet potato and cut in pieces of 2 centimeter. Mix 1 tbsp sunfloweroil with salt, red bell peper powder and chilipowder. Mix the sweet potato with the spices oil and grill for 20 minutes in the oven.
Drain the black beans. Chop the onion. Heat the pan with the remaining sunfloweroil and fry the onion. Add the black beans and sweet potato and fry for a short time. Add the tex mex spices.
Cut the avocado in tiny slices. Chop the mint. Mix the yogonaise, the Greek yoghurt, the lemonjuice, the honey, the black pepper and mint till it is smooth sauce.
Heat the tortilla in a dry frying pan. Devide the sweet potato and the avocado over the 4 tortilla's and fold double. Serve with the mint-yoghurtsauce.
Nutrition Facts: Calories: 481, Carbs: 55.05, Protein: 8.7, Fat: 23.74, Sat. Fat: 3.24, Sodium: 1.88, Fiber: 7.71