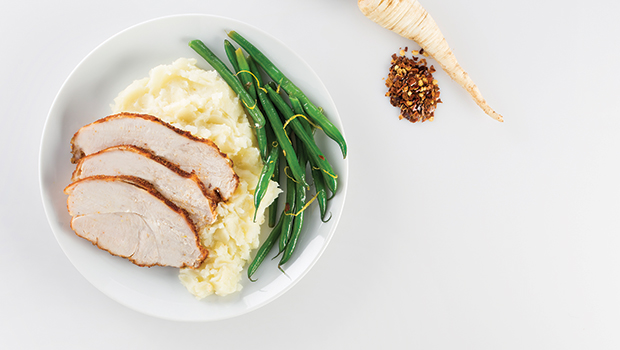 Print
Follow Our Recipe
Ingredients
500 g turkey fillet
2 parsnips
300 g crumbly potatoes
120 ml semi-skimmed milk
400 g green beans
10 g cajun herbs
½ lemon
2 tbs sunflower oil
black pepper
baking powder
Instructions
Preheat the oven at 200 degrees Celsius.
Marinate the chicken with cajun herbs and olive oil. Peel the parsnip and potatoes and cut in cubes. Cook the potatoes and parsnip, drain and puree them. Mix it with the milk and season with black pepper.
Roast the turkey fillet in the oven to a golden brown crust in 15 minutes. Blanch the gren beans with a pinch of baking powder (this will keep the green colour). Rinse the lemon, peel of the skin and cut in thin slices. Mix the lemonslices with the green beans.
Press the lemon and quench the turkey fillet with the lemon juice. Cut the turkey fillet in slices and serve it with the parsnip puree and green beans.
Nutrition Facts: Calories: 460, Carbs: 35.37, Protein: 34.3 Fat: 17.29, Sat. fat: 3.70, Cholesterol: 2.1, Sodium: 11.52,