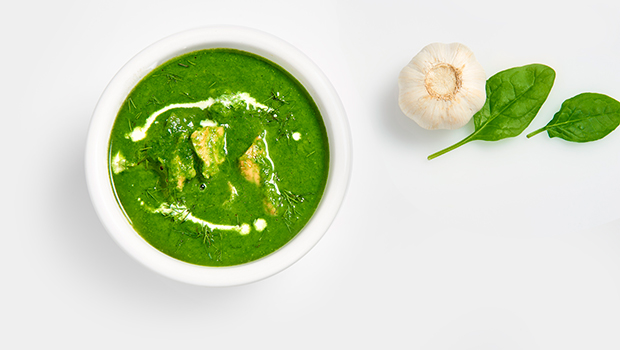 Print
Follow Our Recipe
Ingredients
1 cube vegetable stock
0.5 lt water
200 g fresh salmon
50 ml cooking cream
400 g spinach
200 g crumbly potato
½ onion
1 clove of garlic
¼ bunch of dill
black pepper
1 t sunflower oil
Instructions
Prepare the vegetable stock.
Chop the onion and the garlic and fry briefly in a frying pan together with the sunflower oil. Peel and cut the potatoes into cubes. Add the spinach and potato cubes and let the spinach shrink. Quench with the vegetable stock. Bring to the boil and puree the soup with the hand blender.
Rinse the dill and finely slice. Chop salmon in cubes. Add dill and cooking cream and season with some pepper. Just before serving, add the salmon.
Nutrition Facts: Calories: 201, Carbs: 11.92, Protein: 13.2, Fat: 10.68, Sat. Fat: 2.62, Sodium: 0.88, Fiber: 3.58