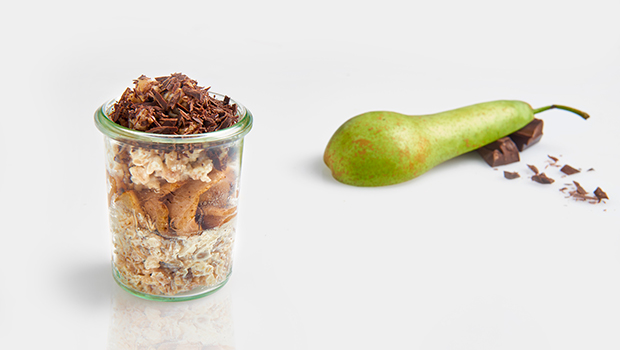 Print
Follow Our Recipe
Ingredients
80 g oatmeal
40 ml semi-skimmed milk
1 pear
1 tbs sunflower oil
pinch of Chinese 5 herbs
dark chocolate (for decoration)
Instructions
Preheat the oven at 180 degrees Celsius.
Cook the oatmeal with milk in 10 minutes on a low fire and let it cool down.
Peel the pear, remove the core and cut it in thin slices. Mix the pear with the sunflower oil and Chinese 5 herbs. Bake the mixture in the oven for 8 minutes.
Spread the oatmeal in small glasses and put the grilled pear on top. Top it off with some dark chocolate flakes.
Nutrition Facts: Calories: 156, Carbs: 18.90, Protein: 3.0, Fat: 7.02, Sat. Fat: 1.60, Sodium: 0.04, Fiber: 2.83