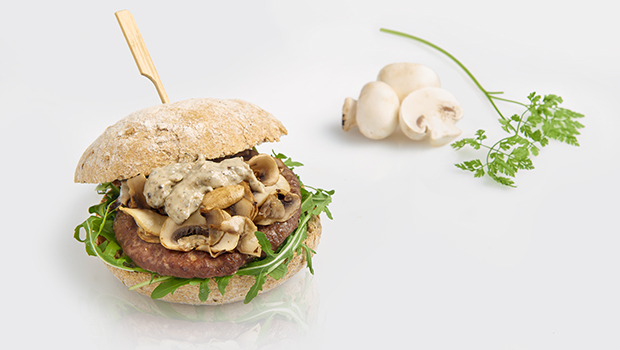 Are you a big fan of mushrooms and truffle? Definitely try this mouthwatering beef burger!
Print
Follow Our Recipe
Ingredients
4 multigrain buns
4 beef burgers à 100 g
300 g mushrooms
4 sprigs of chervil
40 ml yogurt-based mayonnaise
40 g truffle tapenade
40 g rocket
1 tb sunflower oil
Instructions
Brush off the mushrooms and cut them in slices.
Heat the sunflower oil in a frying pan, fry the mushrooms and keep them heated.
Rinse chervil and pluck off leaves.
Mix the yogurt-based mayonnaise with the truffle tapenade.
Grill the beef burgers for approximately 6 minutes.
Cut open the bun and put the rocket and burger on heal of bun. Top with fried mushrooms and garnish with truffle-mayonnaise and chervil. Close burger with crown of bun.
Nutrition Facts: Calories: 545, Carbs: 51.39, Protein: 32.4, Fat: 21.65, Sat. Fat: 5.56, Sodium: 3.15, Fiber: 9.03