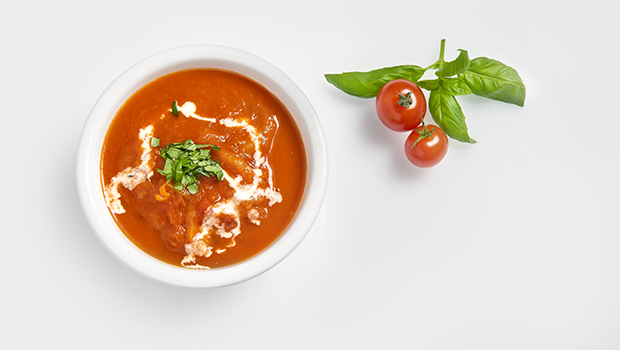 Print
Follow Our Recipe
Ingredients
0.5l vegetable broth
100g pealed tomatoes
2 roma tomatoes
100 g grilled bell pepper mix (from jar)
1 yellow onion
2 tsp cooking cream
1 clove of garlic
1 tsp sunflower oil
handful of basil
pinch of black pepper
Finely chop the onion and press the garlic. Heat the sunflower oil in a pan and fry the onion, add the garlic puree and pealed tomatoes and cook shortly.
Add vegetable broth, simmer shortly and puree the soup in a blender.
Cut the roma tomatoes in cubes. Drain out the bell peppers and cut in slices. Add tomato cubes and bell pepper to the soup and cook shortly
Finely chop the basil and add it to the soup together with the cooking cream. Add black pepper to your flavour.
Nutrition Facts: Calories: 44, Carbs: 4.54, Protein: 1.7, Fat: 2.01, Sat. Fat: 0.72, Sodium: 1, Fiber: 1.89