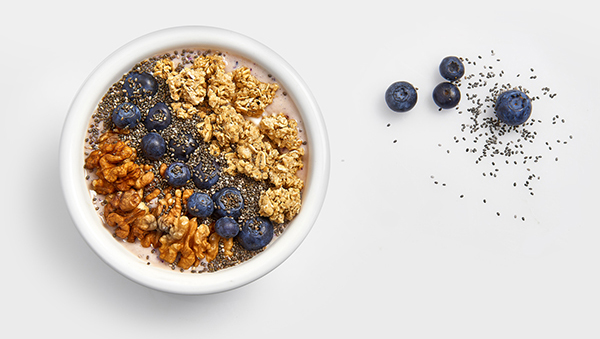 Print
Follow Our Recipe
Ingredients
600 g Greek yoghurt
200 g blueberries
80 g walnuts
1 banana
100 g oats with granola
4 tbsp chia seed
Pre-heat the oven at 180 degrees
Grill the walnuts 6/8 minutes in the oven.
Wash the blueberries and let them drain for a few minutes. Peel the banana and cut in pieces. Mix half of the blueberries with the banana and half of the Greek yoghurt in blender till it is smooth.
Mix the remaining yoghurt with the blueberry-bananayoghurt and divide this over the bowls. Divide the remaining blueberries, oats, walnuts and chia seeds over the yoghurt the same way as in the picture.
Nutrition Facts: Calories: 389, Carbs: 36.12, Protein: 17.4, Fat: 18.07, Sat. Fat: 1.93, Sodium: 0.16, Fiber: 7.52