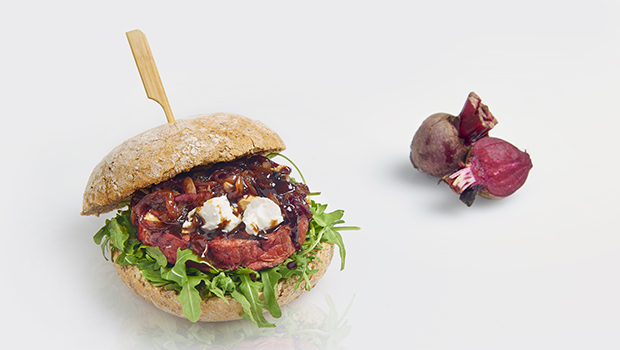 Did you know:
the colour of goat cheese is more white than cheese that is made from cowmilk? This is because goats convert the orange dye (carotene) from their forage into vitamin A in their digestive tract.
Print
Follow Our Recipe
Ingredients
4 wholegrain buns
4 beetroot burgers
80 g goat cheese
100 g apple syrup
2 red onions
40 g rocket
1 tbs sunflower oil
Cut the onions in half and thinly slice them. Heat a pan with oil and fry the onion rings. Add the apple syrup and cook briefly on low heat.
Crumble the goat cheese. Grill the beetroot burgers for 2 to 3 minutes on each side. Cut open the buns and place rocket. On top, place the beetroot burgers and garnish with goat cheese and the onion-apple syrup. Close burger with crown of bun.
Nutrition Facts: Calories: 536, Carbs: 73.38, Protein: 22.6, Fat: 14.37, Sat. Fat: 4.75, Sodium: 2.73, Fiber: 12.30