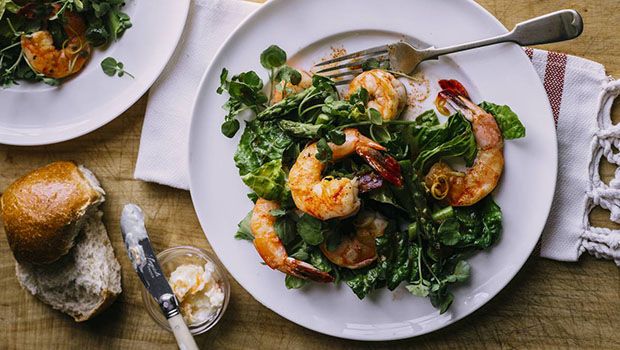 Kale may be the trendiest superfood, but it's also one of the healthiest—and this simple, satisfying salad is full of it. Kale is a sturdy green, but making it tender and salad-ready is easy: Just massage the leaves with the dressing before serving. Make your prep time even quicker by using leftover cooked shrimp from the Lettuce Wraps with Shrimp and Thai Lime Sauce recipe.
Print
Follow Our Recipe
Ingredients
2 1/2 tablespoons lemon juice
2 tablespoons non-fat Greek yogurt
2 teaspoons Dijon mustard
2 teaspoons reduced-fat mayonnaise
1 tablespoon water
1/8 teaspoon salt
1/4 teaspoon pepper
1/4 teaspoon garlic powder
2 tablespoons extra-virgin olive oil
2 tablespoons grated Parmesan, plus more for garnish if desired
8 cups chopped, packed kale (about 2 bunches, ribs removed and leaves torn), washed and thoroughly dried
1/4 cup sliced red onion
1 pound cooked freshwater shrimp from Lettuce Wraps with Shrimp and Thai Lime Sauce recipe
In large bowl, make dressing by mixing lemon juice, Greek yogurt, mustard, mayo, water, salt, pepper, and garlic powder, using fork to combine. Slowly pour in olive oil and continue to whisk until combined. Whisk in Parmesan; taste to adjust seasonings.
Add kale to dressing, using tongs to coat greens with dressing. If desired, use clean hands to massage dressing into kale for about 1 to 2 minutes to tenderize greens. Add red onion slices, stirring to combine with kale.
To serve, divide salad among plates and top with shrimp and extra Parmesan cheese, if desired.
Nutrition Facts: Grams per
serving: 295 grams, Calories: 25g, Carbs: 25g, Protein: 17g, Fat: 10g, Sat. Fat: 2g, Cholesterol: 544mg, Sodium: 127mg , Fiber: 3g