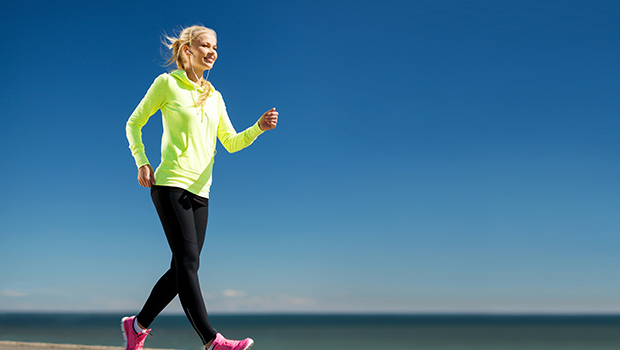 How walking improves your health from head to toe.
Walking very well may be the easiest and most effective way to get in shape – and it delivers many health benefits. From head to toe, here's how walking can make you healthier inside and out.
MOOD
It's well-known that aerobic exercise, including walking, can give your spirits a lift. But researchers have found that how you walk can also affect your mood. When people walk with less arm movement and their shoulders down, they feel sad. Yet when people walk with more bounce in their step, their moods turn positive.
BRAIN
Physical activity, including walking, can lower the risk of Alzheimer's by 50%. Studies have shown that walking for just 40 minutes three times a week increases the size of the hippocampus (that's your brain's memory hub), which can help prevent age-related memory decline and protect against dementia.
HEART
Take yourself for a brisk walk a few times a week, and you'll lower your risk of high blood pressure, cholesterol and diabetes. According to research, walkers get the same heart-health benefits as runners.
WAIST
When it comes to your waist, brisk walking maybe better than other activities, including swimming, cycling, dancing and tennis. People who regularly walk for 30 minutes have a lower body mass index and a smaller waist than people who did other sports and exercises.
BLOOD SUGAR
If you're keeping an eye on your blood sugar, or simply want to reduce your risk of type 2 diabetes, walking is the way to go. Taking 15-minute walks after each main meal may help older adults regulate their blood sugar (including lowering post-meal blood sugar). These short walks were even more effective at helping regulate blood sugar than one continuous 45-minute walk.
BONES
You don't have to do high-impact activity to strengthen your bones. Among men over 50, walking can reduce the risk of hip fractures by at least 43%. Studies have also shown that walking can preserve bone density in women.