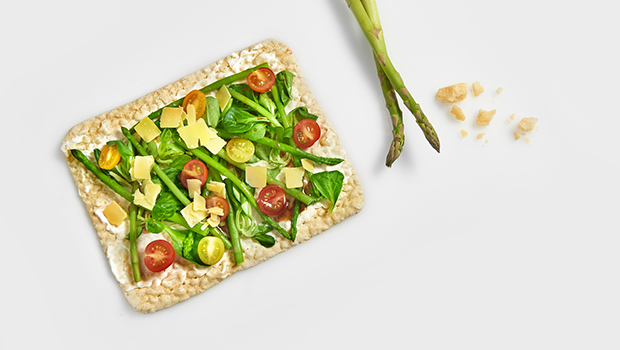 Did you know that green asparagus contains more vitamin than white asparagus? Green asparagus are rich in vitamins C, E and B11, which ensures good growth.
Print
Follow Our Recipe
Ingredients
4 piadinis (Italian wrap)
200 g green asparagus
250 g cherry tomato mix
40 g lamb's lettuce
60 g grated parmesan cheese
30 ml balsamic vinegar
30 ml extra virgin olive oil
Instructions
Blanch the asparagus in boiling water and rinse it cold. Halve the cherry tomatoes and mix the balsamic vinegar with the olive oil into a dressing.
Spread the wrap with the dairy spread and siege with the lamb's lettuce, asparagus, parmesan cheese, cherry tomatoes and the dressing.
Nutrition Facts: Calories: 322, Carbs: 28.46, Protein: 10.1, Fat: 18.14, Sat. Fat: 7.13, Sodium: 0.95, Fiber: 4.57