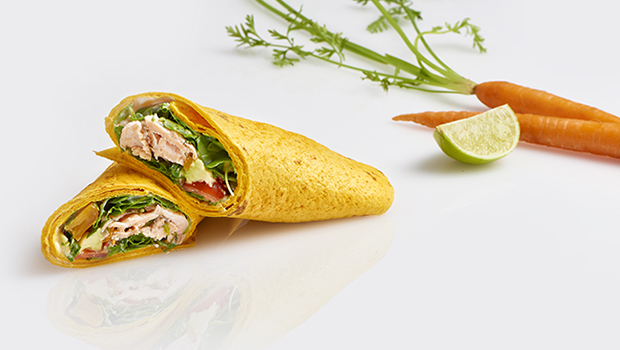 Print
Follow Our Recipe
Ingredients
4 carrot tortillas (no fairytales)
200 g smoked salmon
160 g cherry tomatoes
1 avocado
80 ml sour cream
4 hands full of rocket
1 lime
1 shallot
1 clove of garlic
handful of parsley
handful of dill
pinch of pepper
Preheat the oven at 180 degrees
Cut the cherry tomatoes and the avocado in cubes. Finely chop the parsley and dill. Squeeze the lime.
Mix the dill, half of the lime juice and half of the parsley with the salmon. Roast the salmon for about 10 minutes in the oven and let it cool.
Chop the shallot and press the garlic. Mix the tomatoes, avocado, rest of the parsley and lime juice, garlic puree and pepper.
Spread sour cream onto the tortillas and cover with rocket, salmon and salsa-guacamole. Roll up and cut diagonally.
Nutrition Facts: Calories: 374, Carbs: 28.45, Protein: 18.5, Fat: 19.44, Sat. Fat: 4.16, Sodium: 1.4, Fiber: 6.56