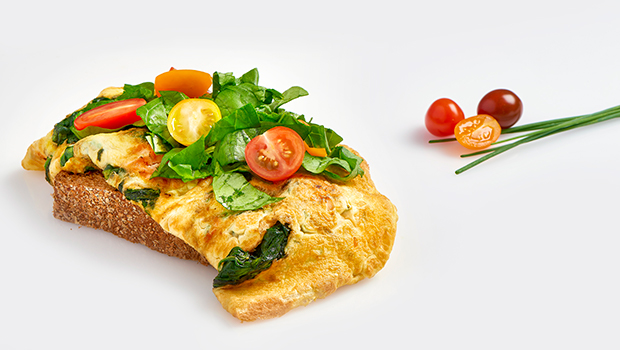 Print
Follow Our Recipe
Ingredients
4 slices of wholegrain bread
6 eggs
200 g salmon pieces
160 g spinach
100 g cherry tomatoes
hand of chives
1 tbsp sunflower oil
1 clove garlic
pinch of black pepper
Chop the chives fine. Whip the eggs apart and add the black pepper and chives.
Cut the salmon in tiny pieces. Heat the sunflower oil in a pan and add the salmon pieces and fry for 2 minutes. Add the garlic and spinach and fry till the spinach is shriked. Mix the salmon mix with the whipped eggs.
Pour 1/4 of the eggmix in a pan and fry. After 2 minutes fold the eggs double and lay down on a breadslices. Repeat this step 3 times.
Wash the cherrytomatoes and halve them. Serve on top of the omelet.
Nutrition Facts: Calories: 466, Carbs: 28.27, Protein: 31.1, Fat: 22.27, Sat. Fat: 4.7, Sodium: 0.66, Fiber: 4.67