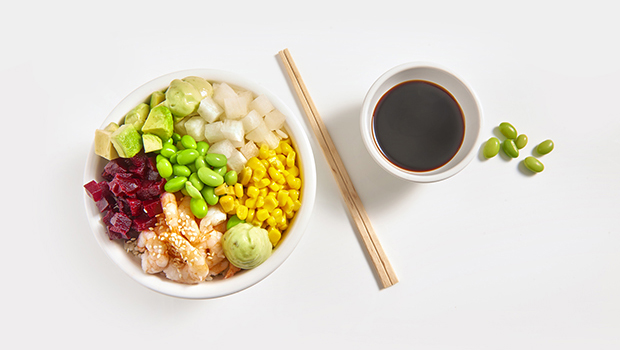 Sushi, just a little different!
Print
Follow Our Recipe
Ingredients
80 g brown rice
50 g romaine lettuce
40 gr raw food mix
120 g soybeans
60 g corn kernels
160 g cucumber
40 g rettich
60 g carrots julienne
160 g salmon pieces
20 g seaweed salad
40 g dressing sesame
Cook the brown rice according to the instructions on the package and let it cool down.
Remove the hard core from the romaine lettuce leaves and finely chop the lettuce. Mix the Romaine lettuce with the raw food mix and the rice.
Drain the corn kernels and cut the cucumber into cubes. Peel the rettich and cut it into cubes.
Fill the bowl with the brown rice mixture. Divide the soybeans, the corn kernels, the cucumber, the rettich, the carrot julienne and the salmon slices. Garnish with the seaweed salad. Serve with the dressing.
Nutrition Facts: Calories: 264, Carbs: 20.57, Protein: 16.1, Fat: 11.95, Sat. Fat: 2.16, Sodium: 1.34, Fiber: 4.22