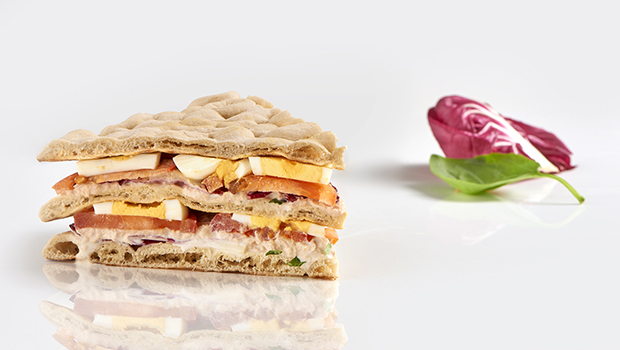 Tuna is rich in selenium and is an antioxidant. Selenium makes heavy metals that end up in food by contamination less poisonous. In addition, it ensures proper thyroid function.
Print
Follow Our Recipe
Ingredients
3 piadina's
200 g tuna in oil
2 eggs
2 vine tomatoes
200 g young leaf lettuce melange
80 ml yogonaise
1/4 bunch of basil
Instructions
Cook the eggs for 8 minutes and cut them into slices.
Chop the tomato into slices and the basil fine.
Let the tuna drain. Mix the yoghonaise, tuna and the basil.
Heat up the piadina's in a dry pan on low fire.
Spread two piadina's both with the halve of the red lettuce, the tuna mix, the eggs and the tomatoes. Put the two piadina's on eachother and put a third one on it. Cut the piadina's in 4 pieces and serve 1 piece each portion.
Nutrition Facts: Calories: 470, Carbs: 59.03, Protein: 27.8, Fat: 12.58, Sat. Fat: 2.4, Sodium: 2.02, Fiber: 5.33