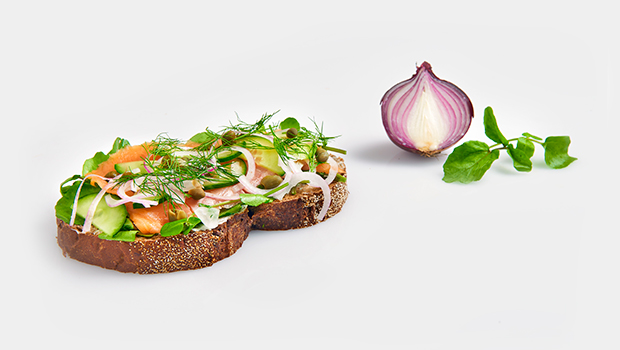 Enjoy this delicious sandwich with smoked salmon! Did you know salmon isn't just good for your brain; it's great for a flatter belly. The credit goes to the high amount of omega-3 fatty acids that help your body burn fat rather than store it.
Print
Follow Our Recipe
Ingredients
½ full fibre bread
¼ cucumber
160 g smoked salmon
40 g watercress
60 g cream cheese
1 tbs capers
½ red onion
4 sprig of dill
Instructions
Cut the bread in 2cm thick slices.
Rinse the cucumber and thinly slice them.
Rinse and dry the watercress. Thinly slice the onion.
Drain the capers in a colander.
Spread the cream cheese on the breadslices and top them with watercress, cucumber, smoked salmon, red onion, capers and finally garnish with dill.
Nutrition Facts: Calories: 273, Carbs: 27.78, Protein: 20.3, Fat: 7.55, Sat. Fat: 2.15, Sodium: 2.1, Fiber: 7.52