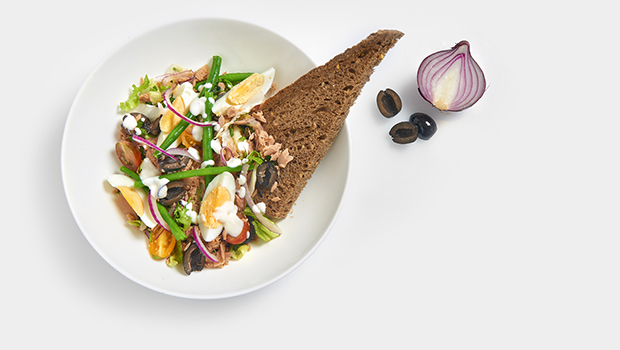 Did you know that olives are good for the blood vessel system? Olives contains unsaturated fatty acids that have a positive effect on the heart and the cholesterol level.
Print
Follow Our Recipe
Ingredients
160 g potato wedges
160 g green beans
160 g tuna in oil
4 eggs
150 g cherry tomato mix
1/2 red onion
60 g black olives
80 g mixed lettuce
2 thick slices of dark multigrain bread
60 ml yoghurt dressing
Cook the eggs for 8 minutes and rinse them cold. Prepare the potato wedges according to the instructions on the packaging and let it cool down.
Clean the beans and cook them al dente in 10 minutes.
Let the tuna drain. Halve the cherry tomatoes. Cut the red onion in halve rings. Let the olives drain and halve them. Cut the eggs into parts.
Mix the lettuce with the beans, the cherry tomatoes, de red onion and the potato wedges.
Divide the lettuce over the plates. Finish the salad with the tuna, the olives, the eggs and the yoghurt dressing.
Cut the bread slices diagonally and put 1 slice by each salad.
Nutrition Facts: Calories: 334, Carbs: 27.76, Protein: 23.5, Fat: 12.94, Sat. Fat: 2.47, Sodium: 2.17, Fiber: 6.9