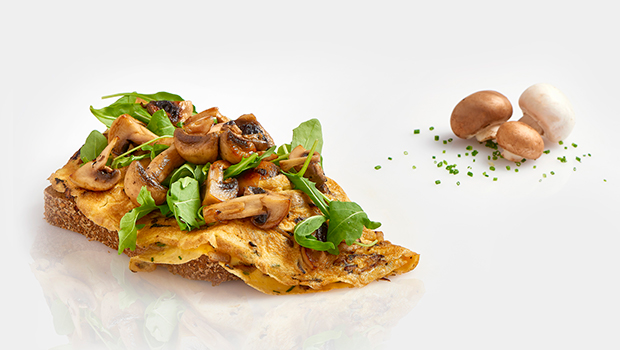 Print
Follow Our Recipe
Ingredients
4 slices wholegrain bread
400 g white mushrooms
200 g chestnut mushrooms
6 eggs
1 yellow onion
hand of rocket salad
2 tbsp chives
1 tbsp sunflower oil
pinch of black pepper
Chop the chives fine. Whip the eggs and add the chives and the black pepper. Clean the two kind of mushrooms and cut them in 4 pieces. Cut the onion.
Heat the sunflower oil in a large pan, fry the onion aproximately 2 minutes, add 2/3 of the mushrooms and fry shortly.
Mix the onion and mushrooms with the 6 eggs. Bake 4 omelettes with the eggmix and fold after 1 or 2 minutes. Lay the egg on a slice of bread.
Fry the rest of the mushrooms short. Serve the bread with rocket salad and fried mushrooms on top.
Nutrition Facts: Calories: 361, Carbs: 28.85, Protein: 23.1, Fat: 15.2, Sat. Fat: 3.3, Sodium: 0.62, Fiber: 9.44