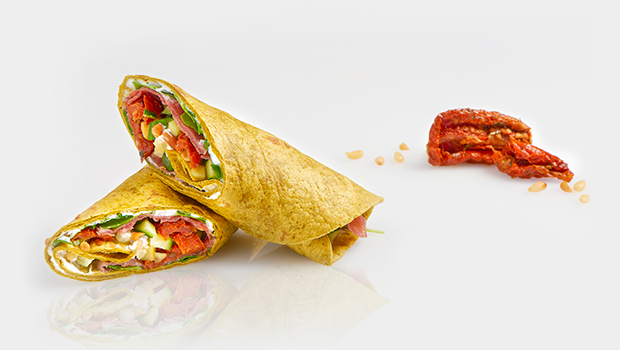 Print
Follow Our Recipe
Ingredients
4 kale tortilla's no fairytales
100 g roast beef
100 g dairy spread
1 tbsp horseradish
1/2 cucumber
60 g sundried tomatoes
50 g rocket salad
40 g pine nuts
pinch of black peper
Roast the pine nuts in a dry pan.
Cut the cucumber in small cubes. Mix the horseradish with the diary spread and cover the tortilla's with it.
Devide the rocket salad, the cucumber, de roast beef, the black peper, the sundried tomatoes and the pine nuts over the 4 tortilla's.
Roll the tortilla's up and cut in two pieces.
Nutrition Facts: Calories: 319, Carbs: 28.50, Protein: 16.10, Fat: 14.20, Sat. Fat: 4.73, Sodium: 2.30, Fiber: 4.33