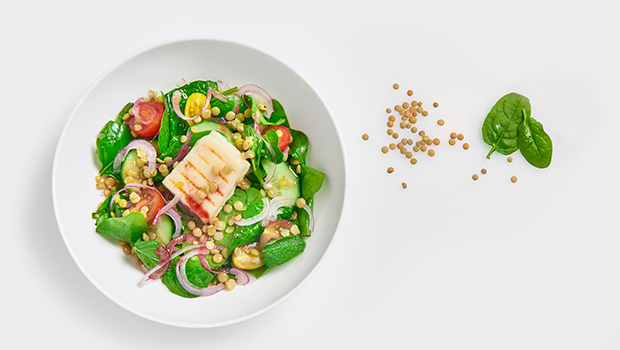 Print
Follow Our Recipe
Ingredients
140 g halloumi
400 g lentil
160 g cherry tomatoes
120 g spinach
1/4 cucumber
1/2 red union
hand of mint
4 tbsp raspberry vinaigrette
1 tbsp sunfloweroil
Halve the cherry tomatoes. Wash and drain the lentils. Cut the red union in wafer-thin rings and pick some mint leafs.
Cut the cucumber in slices. Slice the halloumi, oil it with sunfloweroil and grill on both sides.
Mix the spinach with the lentil and halve of the vinaigrette. Devide the lentil/spinash mix over the 4 plates and devide the cucumber, the cherry tomatoes and red union over the salad.
Lay the grilled halloumi on the salad. Garnish with mint and the remaining vinaigrette.
Nutrition Facts: Calories: 340, Carbs: 16.67, Protein: 16.5, Fat: 21.84, Sat. Fat: 7.64, Sodium: 1.57, Fiber: 5.64