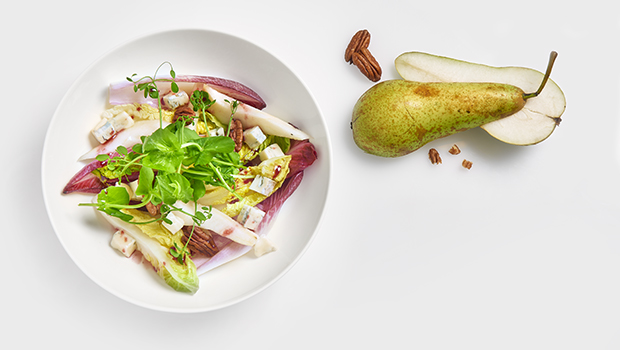 A delicious winter salad with gorgonzola and pear.
Print
Follow Our Recipe
Ingredients
little gem lettuce (1 crop)
140g gorgonzola cheese
2 pears
40g pecans (unsalted)
200g radicchio
cup of cress
50ml raspberry dressing
Instructions
Preheat the oven to 180 degrees Celcius
Pick and wash the little gem lettuce and remove core.
Cut gorgonzola in cubes, peel the pear, remove the core and cut in 8 pieces.
Roast the pecans in the oven.
Pick and wash the radicchio. Rinse the cress and cut it.
Spread the lettuce on the plates, together with the pear, gorgonzola, radicchio, pecans and cress.
Drizzle the raspberry dressing over the salad.
Nutrition Facts: Calories: 301, Carbs: 11.75, Protein: 9.2, Fat: 23.15, Sat. Fat: 7.96, Sodium: 0.76, Fiber: 3.69