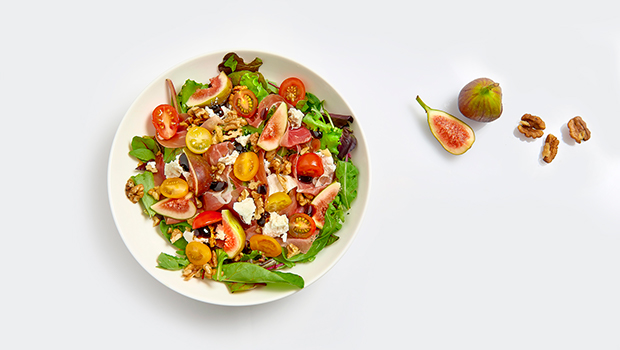 Print
Follow Our Recipe
Ingredients
100 g figs
100 g goat cheese
80 g serrano ham
240 g leaf salad
200 g cherrytomatomix
100 g walnuts
3 tbsp honey
3 tbsp balsamic cream
Cut the cherrytomatoes halve and the figs in 6 wedges. Chop the walnuts.
Divide the leaf salad over the 4 plates and divide the serrano ham over the salad.
Crumble the goat cheese and divide over the salad with the cherry tomatoes, the walnuts and figs.
Garnish with honey and balsamic cream.
Nutrition Facts: Calories: 393, Carbs: 22.5, Protein: 16.9, Fat: 25.35, Sat. Fat: 7.0, Sodium: 1.5, Fiber: 3.58