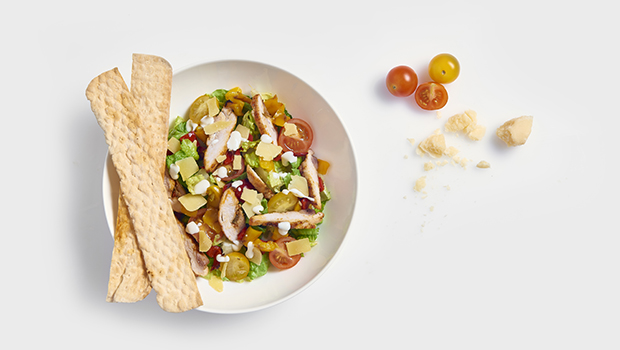 Did you know that this delicious salad of romain lettuce contains good substances? Romaine lettuce is rich in vitamin A, K and C, which has a favorable effect on lowering cholesterol levels. Beside that, romaine lettuce is rich in potassium which has a favorable effect on blood pressure.
Print
Follow Our Recipe
Ingredients
300 g chicken thigh filet
2 pieces of romaine lettuce
2 bell peppers
250 g cherry tomatoes
2 tortilla wraps
25 g grated parmesan cheese
4 tbs caesar dressing
2 tbs sunflower oil
1 tl cajun spices
Instructions
Preheat the oven at 180 degrees Celcius.
Pick the romaine lettuce, eventually remove any hard cores and cut the lettuce into pieces.
Mix the chicken fillet with the sunflower oil and Cajun spices. Bake the chicken 15 minutes in the oven, let the chicken cool down and cut into strips.
Halve the cherry tomatoes and cut the bell peppers into cubes.
Cut every wrap in 6 equal bars, don't use the outer two. Bake the bars crispy in the oven for 3 minutes.
Divide the romaine lettuce, the cherry tomatoes, the bell pepper and the Cajun chicken over the plates. Finish with the Caesar dressing and the parmesan cheese and add two bars of wraps.
Nutrition Facts: Calories: 250, Carbs: 12.48, Protein: 18.9, Fat: 12.9, Sat. Fat: 3.04, Sodium: 1.68, Fiber: 3.95