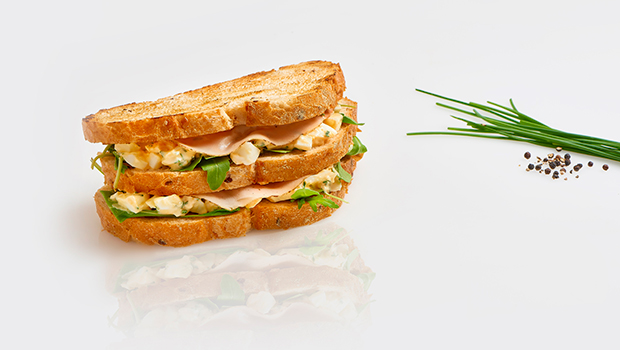 Print
Follow Our Recipe
Ingredients
8 eggs
8 slices roast pork
12 slices of multigrain desembread
60 g rocket salad
5 tbsp yoghurt mayonaise
5 tbsp Greek yoghurt 0% fat
hand of chives
black pepper
Boil the eggs hard, rinse them with cold water and chop the eggs in large pieces.
Chop the chives in tiny pieces. Mix the eggs with the yoghurt mayonaise, Greek yoghurt, chives and black pepper till it is an egg salad.
Toast the bread. Take 3 slices and spread 2 with egg salad, rocket and a slice roast pork. Make 3 layers like a clubsandwich and cut it angled.
Nutrition Facts: Calories: 498, Carbs: 42.53, Protein: 31, Fat: 20.64, Sat. Fat: 4.61, Sodium: 2.62, Fiber: 8.40