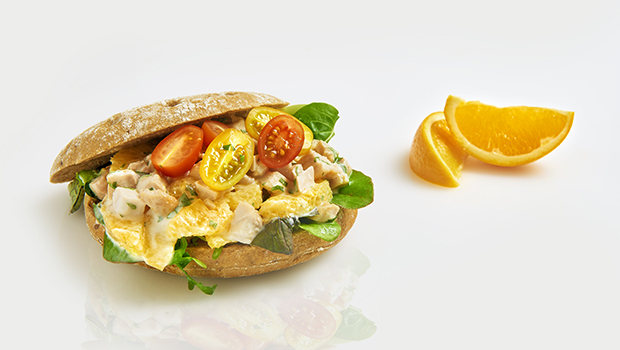 Did you know that oranges contain a lot of vitamin C? Vitamin C protects the skin against damage (by the sun for example) and is necessary for the production of collagen: a substance that keeps the skin supple.
Print
Follow Our Recipe
Ingredients
400 g chicken filet
4 multigrain buns
100 g cherry tomato mix
80 g greek yoghurt 0%
2 oranges
40 g mesclun salad
1/4 bunch of tarragon
1 tbs lemon juice
1 tbs honey
1 tbs sunflower oil
pinch of pepper
Preheat the oven at 180 degrees Celcius.
Mix the chicken filet with the sunflower oil and the black pepper. Bake the mix in the oven for 15 minutes, let it cool down and cut it into cubes.
Halve the cherry tomatoes and cut the tarragon. Mix the Greek yoghurt with the lemon juice, the honey and the tarragon.
Peel the oranges and cut it into pieces.
Mix the dragon yoghurt with the chicken cubes and the orange parts.
Cut the buns open and siege with the salad. Divide the chicken salad and finish with the cherry tomatoes.
Nutrition Facts: Calories: 435, Carbs: 52.68, Protein: 29.8, Fat: 10.72, Sat. Fat: 1.87, Sodium: 1.62, Fiber: 4.66