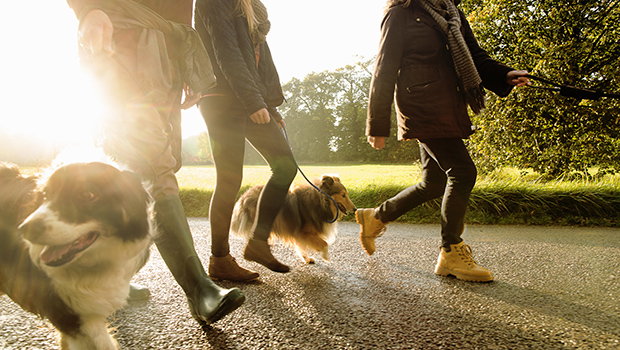 Win-win: These activities boost your well-being and nurture social connections.
Some days it feels like there just isn't enough time. The solution: Multitasking! These five activities boost your relationships and your health.
Binge watch & exercise
Catch up on the latest episodes of your favourite show with a friend and set up a mini gym in front of the tv with yoga mats, stability balls, and light dumbbells. Take 10-minute breaks every half-hour to do some stretching exercises. You'll get caught up on the latest drama and keep in shape too.
Meeting & walking
Stuck in a conference room on a beautiful day? Turn that static session into a walking meeting. You'll take in fresh air, get some exercise, and generate more creative ideas.
Walk the dog & meet new people
Walking with your dog is relaxing in itself. Do you feel leek meeting new people, head to your local dog park. Great place to make new friends.
Dance & date
Why sit still in a movie theatre when you can have a great workout – and lots of fun – on the dance floor? With one one hour of dancing you can burn around 300 calories. Check your local dance studio or club.
Play with your child & go outside
Take a break from your smartphone or tablet and go outside with your child. This way you can discover nature together.