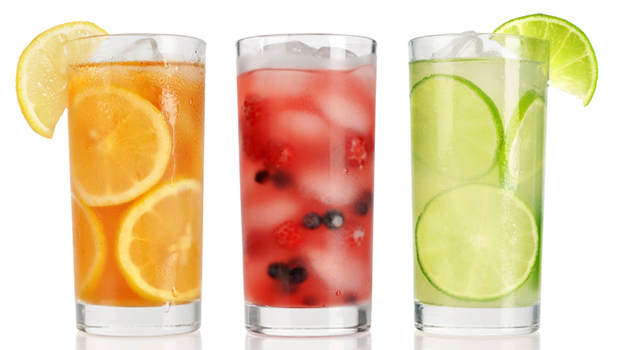 Find water boring? Not if you add fruit, vegetables, herbs and even flowers. Really chic and oh so simple to make.
Drinking water is essential to staying hydrated, you already know that. But sometimes water is a bit boring. Unless you add some fresh ingredients.
Mix each combination below in a 1 litre pitcher. You need a long wooden spoon to gently mash some of the ingredients. The flavoured water can be served immediately, but you can also let it sit for a few hours (or longer) to infuse. Cheers!
Cherry-lime
Add 250 g pitted cherries to a pitcher. Gently mash the cherries; stir in 2 sliced limes and water.
Raspberry-basil
Add 250 g raspberries along with 10 basil leaves to a pitcher. Mash the ingredients together and add water.
Berry-vanilla
Mix together 50 g each blueberries, blackberries, and chopped strawberries in a pitcher. Mash the berries and stir in the water. Split 1 vanilla bean lengthwise and scrape out the seeds with a small knife; add the seeds and pod to the pitcher. If you don't have a vanilla bean, stir in a small drop of vanilla extract.
Pineapple-ginger
Add 250 g chopped pineapple, a thinly sliced 5 cm piece of fresh ginger, and water to a pitcher.
Watermelon-chili-salt
Add 250 g chopped seedless watermelon to a pitcher; crush the fruit and add water. To serve, mix equal parts chili powder and sea salt on a plate; wet the rim of a glass with water and turn the rim in the chili-salt combo. Add the watermelon water to the glass and serve.
Apple-cinnamon
Add 3 cinnamon sticks, 2 chopped apples, and water to a pitcher.
Blueberry-lavender
Add 250 g blueberries to a pitcher, along with 2 teaspoons culinary lavender buds (find them online or at specialty grocery stores). Mash the berries and lavender and stir to combine.
Cucumber-mint
Add 12 mint leaves to a pitcher and mash. Stir in 1/4 thinly sliced cucumber and water.
Grapefruit-peach-rosemary
Add 2 chopped peaches to a pitcher and gently mash. Next, add 1 thinly sliced ruby red grapefruit, 1 small rosemary stalk, and water.