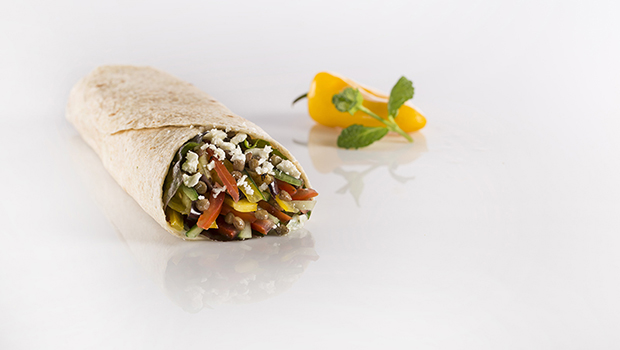 Print
Ingredients for 4 people
1 bell pepper (yellow)
1 eggplant
2 tbs sunflower oil
20g lettuce (1/4 crop)
100g canned lentils
1 red onion
2 twigs of mint
100g feta cheese (cubes)
20ml balsamic vinegar
4 wraps (25cm)
120g tzatziki
black pepper
Instructions
Preheat the oven to 180 degrees Celcius.
Clean bell pepper and eggplant and cut into strips.
Mix bell pepper and eggplant with sunflower oil and black pepper and grill for 15 minutes at 180 degrees Celcius.
Rinse lettuce and pluck off leaves. Rinse lentils and let them drain.
Thinly slice red onion into rings.
Take off mint leaves, rinse with water and chop them. Let the feta cheese drain in a colander.
Mix bell pepper, eggplant, lentils, onion rings, feta cheese and mint with the balsamic vinegar.
Spread wrap with tzatziki and lettuce and top of with the vegetable mixture.
Roll it up and cut it diagonally.