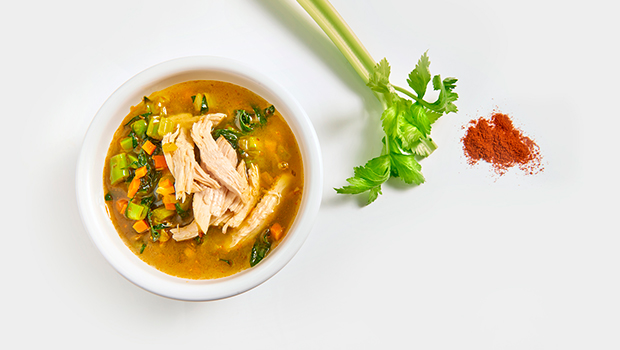 Print
Ingredients for 4 people
500 ml chicken stock
100 g chicken thigh filet
1 pomodori tomato
30 g bean sprout
1 spring onion
1/2 carrot
1 tbsp red curry paste
25 g corn
hand of coriander
1 tbsp red curry paste
pinch of black pepper
Instructions
Preheat the oven at 180 degrees.
Heat the chicken stock.
Mix the chicken thigh filet with sunflower oil and black pepper, grill this for 15 minutes in the oven, cool it down and cut it into thin strips.
Chop the coriander fine, the tomato in cubes, carrot and celery in strips and the spring onion in thin rings.
Add the carrot, celery and the red curry paste into the chicken stock and boil it shortly.
Add the tomato, chicken strips, bean sprout, corn and spring onion into the chicken stock and keep it boil for another short time.
Garnish with coriander.