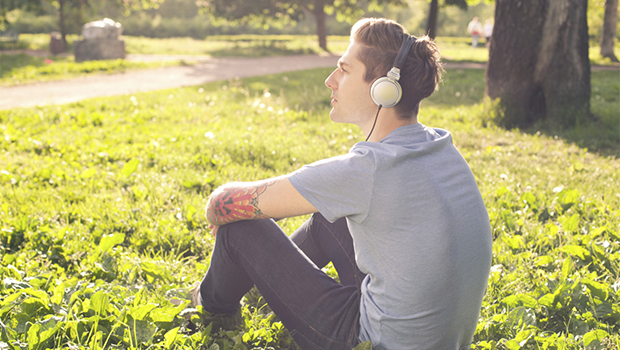 Zet al je zintuigen in voor een rustige geest.
Op je werk gaat het maar door, de ene na de andere rekening valt op de deurmat, het gras in je tuin staat zo hoog dat je erin verdwaalt en tot overmaat van ramp herinnert je kind je er nog even fijntjes aan dat hij die maquette van de slag om Arnhem af moet hebben – vóór morgen. Zin om te gaan gillen? Adem in, adem uit. En gebruik je zintuigen om kalm te blijven.
Voelen
Er gaat niets boven een goede knuffel! Of het nu je kind, je hond, je partner of je beste vriend is: sluit ze in je armen. Daarbij komt namelijk oxytocine vrij in je lichaam en dat stofje zorgt ervoor dat je je meteen een stuk blijer voelt. Daarnaast gaat het cortisolgehalte – het stresshormoon – in je lichaam naar beneden.
Zien
Het is bewezen: wie tijd doorbrengt in de natuur, heeft minder last van stress. Je hoeft niet per se een stevige wandeling te maken. Twintig minuten in de zon, een rondje door het park of even op je balkon of in de tuin zitten is al voldoende. Kijk om je heen en geniet van al het groen. Adem diep en langzaam en voel hoe alle spanning uit je lichaam verdwijnt.
Horen
In de yogastudio of de sauna staat er niet voor niets muziek aan. Het heeft een ontspannende werking. Het maakt eigenlijk niet uit of het een langzaam of snel deuntje is. Als je maar kan relaxen! Dus, de volgende keer dat je wilt gaan stampvoeten, laat je je favoriete zanger of band uit die speakers knallen. Happy van Pharrell Williams, een van de hits van Michael Jackson of die gouwe ouwe rock-klassieker, allemaal prima. Doordat muziek je aandacht vraagt, krijgt je geest geen kans om te stressen en wordt je lichaam ook rustiger.
Ruiken
Da's grappig: het deel van je hersenen dat stress aanpakt ligt vlakbij het deel dat geur verwerkt. Daar kun je mooi gebruik van maken. Ruik aan iets waar je blij van wordt, dan gaat je hartslag omlaag en voel je je rustiger. Citrus, pepermunt, lavendel en kaneel werken rustgevend, maar misschien word jij wel helemaal ontspannen van de geur van versgebakken koekjes of pas gemaaid gras.
Proeven
Beter nieuws kunnen we niet brengen. Het blijkt dat chocolade stressverlagend werkt. Die guilty pleasure heeft dus wel degelijk een positief effect. Ga voor pure chocolade, dat werkt het beste. Voordat je de hele reep wegwerkt: een paar stukjes is al genoeg.