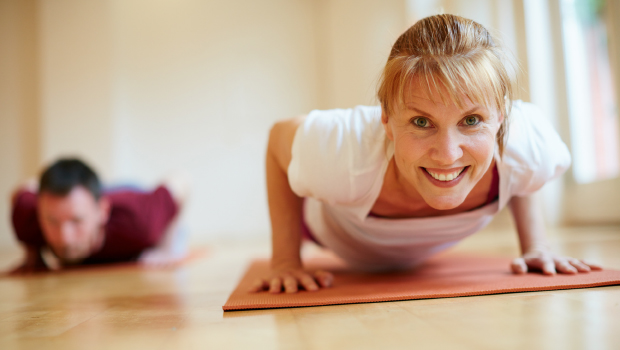 Deze drie eenvoudige vragen kunnen je helpen om zo gezond mogelijk te gaan leven.
Als het gaat om gezondheidsdoelen behalen, denken we vaak in getallen: die van je bloeddruk, je gewicht, je kledingmaat of je cholesterol bijvoorbeeld. Maar gezond zijn is meer dan cijfers alleen. Door de volgende drie vragen te beantwoorden, kun je bepalen hoe gezond je al bezig bent – en waar nog winst te behalen is.
1. Wat ligt er op mijn bord?
Bij goede voeding draait het om balans. In plaats van druk bezig te zijn met wat je wel en niet 'mag' eten, kun je beter kijken naar de algemene samenstelling van je maaltijden. Als richtlijn kun je aanhouden dat de helft van je bord zou moeten bestaan uit groente en fruit, een kwart uit goede koolhydraten en een kwart uit magere proteïnen. Eet beperkt vette en zoete producten. Zo simpel is het!
2. Hoe actief ben ik?
De beweegnorm is 150 minuten gematigd intensieve activiteit. Dat komt neer op zo'n half uur per dag. Haal je dat nu niet, spreek dan met jezelf af dat je elke dag een beetje meer beweegt. De voordelen van een actievere levensstijl? Je vermindert het risico van hart- en vaatziekten, beroerte en sommige vormen van kanker. Daarnaast werk je aan sterkere botten en doet beweging wonderen voor je humeur. Wat je doet, maakt niet zo veel uit, zolang je hartslag maar omhoog gaat. In een stevig tempo wandelen, dansles of een rondje fietsen, het telt allemaal mee. En over tellen gesproken: je hoeft echt niet bij te houden hoeveel minuten je nu precies beweegt. Probeer gewoon elke dag zo veel mogelijk beweging te krijgen. Neem de trap, stel voor om lopend te vergaderen of ga buiten spelen met je kind.
3. Hoeveel stress heb ik normaal gesproken?
Onderzoek wijst uit dat langdurige of chronische stress een negatief effect heeft op je gezondheid. Het verhoogt het risico van hart- en vaatziekten en verkoudheid. Check meerdere keren per dag hoe gestrest je je voelt. Voel je het opkomen, doe er dan direct wat aan. Haal 10 keer diep adem of eet een stukje pure chocolade.